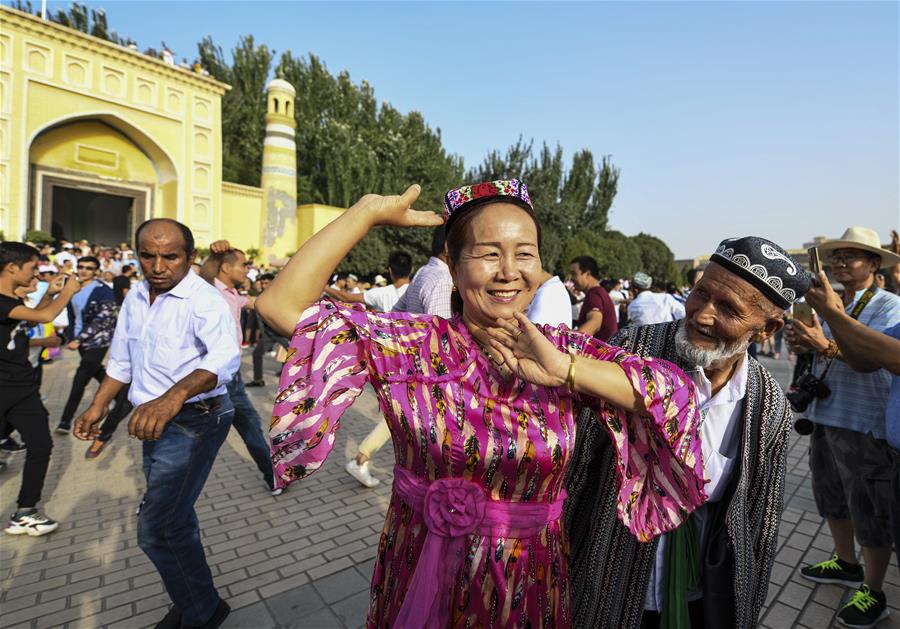 People dance to music during Corban Festival celebrations in Kashgar, northwest China's Xinjiang Uygur Autonomous Region, Aug. 11, 2019. (Xinhua photo/Wang Fei)
"What I have seen there is just the opposite of the news published by the Western media outlets," the general manager of the Aydinlik daily told Xinhua in an interview.
ISTANBUL, Aug. 11 (Xinhua) -- During his first visit to China's Xinjiang Uygur Autonomous Region last month, Tunc Akkoc, a Turkish journalist, saw a Xinjiang different from what he read about in Western media reports.
He cited Western press reports about the lifestyles of the Uygur people being "suppressed" at the vocational education and training centers in Xinjiang, and about "the repression of ethnic groups" in the region, saying that he "just saw the opposite" of these stories.
During his nine-day tour of Xinjiang starting from July 14, Akkoc and journalists from other countries traveled to three cities in the region, including regional capital city of Urumqi. When they visited two education and training centers in Hotan and Aksu, Akkoc was able to walk around freely and speak to around 30 trainees.
The places Akkoc visited are "adorned with Uygur culture" and he "didn't see any pressure."
"Uygur music plays on the streets," he said. "People speak Uygur language."
While in Xinjiang, the Turkish journalist and his colleagues traveled a lot, had the opportunity to visit factories, hospitals and markets, and were able to walk on the streets alone with no one accompanying them.
He saw that artistic activities play an important role in local people's lives. "We saw a lot of people playing instruments. We saw people dancing on the street," he said, noting hundreds of people go to the night markets after work with their families.