China could deliver a much needed global shot in the arm despite a global economic fallout from COVID-19, said vice chairman of the China Center for International Economic Exchanges (CCIEE) Huang Qifan at an event in Beijing on Monday.
The market demand of the world's second largest economy in the coming years will definitely bring a direct and lasting pull to the world economic recovery after the pandemic, especially for the Asian and European countries, thus boosting the world economic cycle, Huang remarked during the Think Tank & Media Forum on Global Economic Development.
He expects that the country's GDP will near $25 trillion in 10 years, and its import volume could reach $27 trillion.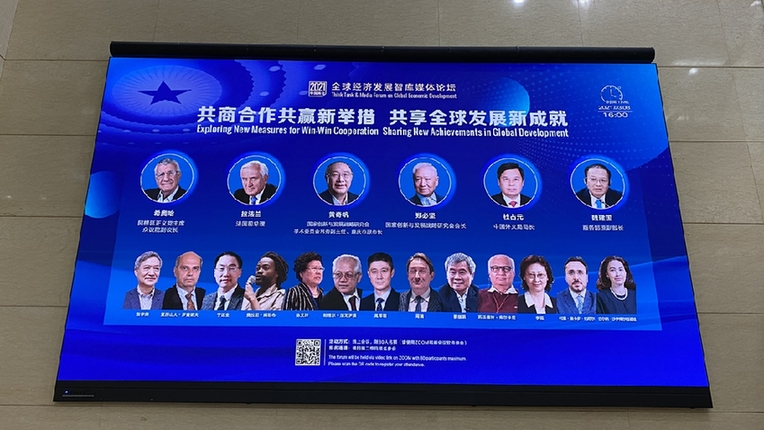 Experts attend the Think Tank & Media Forum on Global Economic Development in Beijing, China, March 8, 2021. (Photo source: CGTN)
Many attendees of the event echoed Huang, with some believing that China's domestic consumer market will surpass the U.S. as the world's largest this year, making China an attractive prospect for the world's exporters, entrepreneurs and multinational conglomerates.
New opportunities for global economic development would surface following China's adoption of dual circulation, a new development pattern that takes the domestic market as the mainstay and allows domestic and foreign markets to reinforce each other, said Wei Jianguo, former Chinese vice minister of commerce.
On the flip side, pundits warned that the systemic risks for the world economy are clear, and inflation could be imminent as countries like the U.S. have been putting a hefty amount of money into the market to bring back normalcy for its economic growth.
The U.S. Senate House has just passed a $1.9-trillion COVID relief bill, which is after numerous rounds of stimulus packages totaling nearly $7 trillion.
Huang said the inflation is almost certain, and the recent volatility of U.S. stocks and bonds and sharp rise in the prices of commodities, such as petroleum and gold, have already reflected such signs.
Huang and Wei shared the same thought that the world needs to join hands now more than ever in the face of challenges such as inflation, sovereign credit risks and climate change.
They hoped the consensus of globalization, one of the best paths towards recovery and prosperity, will eventually be made among countries as they control the pandemic. (By Dai Kaiyi)