China welcomes journalists from all countries to cover news in China according to the law, Chinese Foreign Ministry spokesperson Wang Wenbin said on Tuesday at a daily news briefing.
Wang was responding to the remarks made by Caroline Wilson, UK ambassador to China, on the media environment in China.
The criteria to judge a media outlet is whether it abides by the professional ethics of journalism and insists on the principles of objectivity and fairness, Wang said, adding that some media reports on China by UK companies are biased, full of ideological prejudice and fake news.
Wang said China is always open to foreign journalists, including those from the UK, reporting in China and is willing to offer convenience for their work and life in the country.
"What we oppose is ideological bias against China and fake news in the name of press freedom," Wang added.
The Chinese government encourages the media to monitor public opinion in accordance with the law, protects the legitimate rights and interests of journalists, and protects the intellectual property rights of news publishers, the spokesman said.
'Ideological bias'
Relations between China and major Western media organizations have been tense in recent years due to the latter's biased reports about China as well as Western governments' restrictions on Chinese media outlets and professionals.
Last month, China's broadcasting regulator decided to pull BBC World News off the air in the country for the serious content violation, saying the channel's China-related reports had undermined China's national interests and ethnic solidarity.
A BBC video program aired on January 29 linked COVID-19 with politics and hyped topics of "covering up" the epidemic and the virus' origin, according to a statement by the Information Department of the Chinese Ministry of Foreign Affairs on February 4.
The BBC also aired a video clip of anti-terrorism drills as news coverage of "violent law enforcement and human rights violations" by China's epidemic prevention authorities.
"This is fake news with typical ideological bias, which has resulted in a vile impact," the statement said.
The BBC has clashed with China over a number of disputed reports on Hong Kong, Xinjiang and coronavirus.
On February 24, the Chinese embassy in Britain expressed grave concern over The Guardian's misuse of an Air China picture in one of its reports about a plane incident.
The British newspaper carried a report the previous day about engine parts dropping from a Longtail Aviation's Boeing 747 cargo plane in the Netherlands causing injury. In the report, the paper used a picture of a cargo plane of Air China.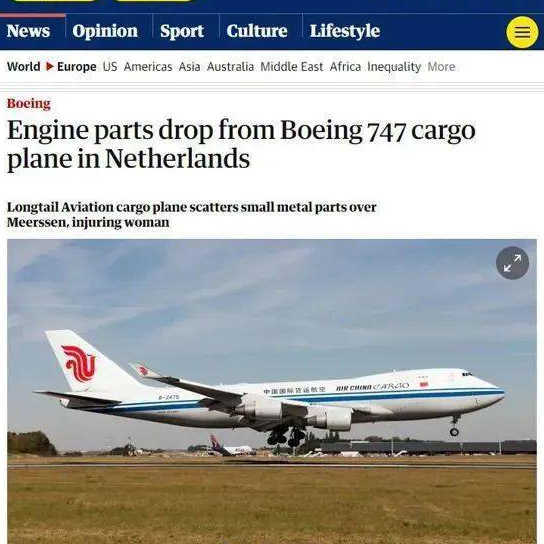 The Guardian misused a Chinese enterprise-related picture in one of its reports.
The Chinese embassy said in a statement that news media should uphold the professional ethics of journalism and conduct reporting in an objective, fair, balanced and accurate manner, adding that this has not been rare in some Western media's reports, revealing their disregard for the ethics of journalism and their deep-rooted prejudice against China.
Press freedom?
Although Western countries love bragging about press freedom, what they do usually proves the opposite.
Britain's communications regulator Ofcom revoked the license of CGTN to broadcast in the UK in early February on the grounds of its ultimate control and its political attributes. Beijing slammed the move as political repression on the Chinese media.
"The UK claims to champion press freedom on the one hand while launching political oppression against CGTN and obstructing its broadcasting on the other," Chinese Foreign Ministry spokesperson Hua Chunying said.
"The UK on the one hand boasts about objectivity and impartiality, while on the other makes political maneuvers and its media take stances and choose angles in reporting all based on ideology, sometimes even fabricating fake news. It is a blatant double standard out of typical political motives," she added.
Last year, Washington designated six Chinese companies operation in the United States as "foreign missions" and announced a personnel cap on Chinese citizens working in those organizations – a move that China called "political oppression" that fully demonstrated Washington's Cold War mentality.
China responded by taking reciprocal countermeasures against six U.S. media companies, demanding that the China-based branches of the American Broadcasting Corporation, The Los Angeles Times, Minnesota Public Radio, Bureau of National Affairs, Newsweek, and Feature Story News declare in written form information about their staff, finances, operations and real estate in China.
While the U.S. virtually expelled over 60 U.S.-based Chinese journalists and denied visa applications for more than 20 without cause, China only revoked the press credentials for 14 American journalists due to expire by the end of last year, Chinese Foreign Ministry spokesperson Wang Wenbin said on Tuesday, underscoring China's "maximum restraint."