Editor's note: Jerry Grey is a China observer who has residency in China and bicycled across several provinces, including the Xinjiang Uygur Autonomous Region. He is a former London Metropolitan police officer with decades of experience in law enforcement and the security industry. The article reflects the author's opinions, and not necessarily the views of CGTN.
Sometimes we get daily reports about "atrocities" in the Xinjiang Uygur Autonomous Region. Phrases like "concentration camps," "forced labor," "genocide" or "language destruction" are part of the vocabulary in these stories.
But time and time again, the reality is different. "Concentration camps" turned out to be schools or shopping centers. "Forced labor" were actually job opportunities for rural people. Stories about "genocide," including forced abortions and sterilizations, when examined fell apart. "Language destruction" is nothing more than enforcement of a nationwide regulation that requires students to study Mandarin in school so that more job and social opportunities are available later.
There have been terrorist incidents in Xinjiang. These are an undeniable matter of record. China's approach, exactly as the rest of the world does now, is to arrest and punish terrorists. But it's much more complicated than this. The perfect breeding grounds for extremism are poverty and under-education. Many people don't commit crimes but, because of poverty and lack of educational opportunities, they may have ideas that lead to the extremes. China is not anti-Islam or anti-Uygur. Like other countries, China is anti-extremism and anti-terrorism. It's these issues China is combating through education for children, re-training for adults and poverty alleviation for all.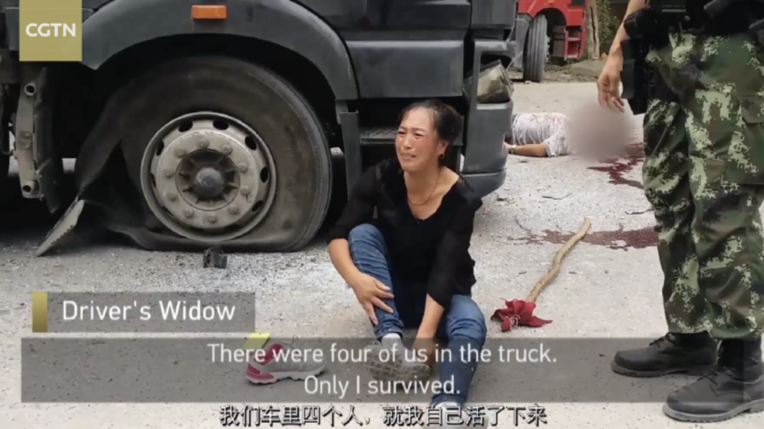 A screenshot of the CGTN documentary "Fighting terrorism in Xinjiang" shows a woman crying after her husband was killed in a terrorist attack in the Xinjiang Uygur Autonomous Region on July 28, 2014. She was the only survivor in the attack. Her husband, who was a truck driver, and two other people in the truck were killed.
I live in China and all this information about Xinjiang is well known to me. Unlike journalists who write stories using information from one or two ill-informed, non-peer-reviewed reports, I've actually been there. Not once, but several times. And, despite claims to the contrary, was allowed freely to travel. My first time was in 2005 and I've been back several times since. No special permission is required and no "guards, minders or escorts" are needed either. In fact, if you visit China, I highly recommend a trip to Xinjiang. The region is amazingly diverse, incredibly safe and extremely friendly to tourists. More than 100 million tourists visit Xinjiang in a normal year!
In 2014, I entered Xinjiang by bike. It was easy, the 35 days of an extended bike ride with a Western friend across China and into the heavily Muslim northwestern regions of Ningxia and Gansu. Before reaching Xinjiang's border, we had passed literally hundreds of mosques and a few Christian churches, all of which told us that religion, including Islam, is alive and flourishing. After camping overnight in the desert, we rode our bikes through a border checkpoint with the lovely name of Xing Xing Xia (Star Star Gorge). There were police there, but they didn't stop us and didn't seem to care that two foreigners on bikes, came from literally nowhere. We rode on and, with a strong tailwind, found ourselves that evening in Hami, almost 200 kilometers deep inside Xinjiang.
In 2019, traveling with my Chinese wife and an Australian friend, we flew into Urumqi, the provincial capital of Xinjiang. My wife and I had a week in Urumqi, looking at such tourist sites as the Grand Mosque and Bazaar at Erdaoqiao. We ate in Uygur restaurants and enjoyed observing Uygur culture, we spoke with many Uygurs and saw many Muslims at their mosques. We saw Uygur writing almost everywhere we looked and, one morning, I watched as thousands of kids walked into school through a security checkpoint designed to keep the kids safe.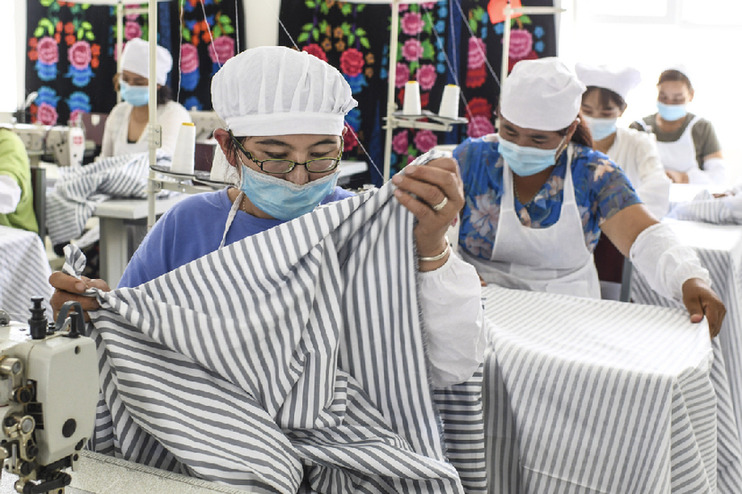 Workers at a rural cooperative make embroidery works in Tekes County, Xinjiang, August 10, 2020. (Xinhua photo)
We had arranged to have our bikes shipped in and, on September 30, we got on them and rode out of the hotel. No one told us what we couldn't do it. During the two weeks of riding, we saw security. We stopped and were checked through points outside towns or cities. But the check wasn't to stop us, it was to ensure we were lawful travelers and safe. Local people took 10 seconds to go through, we foreigners took a little longer as our passports won't swipe the automatic gates. But each time, the police were friendly, courteous and inquisitive about our journey.
If anyone would know what a camp or a prison looks like, I would. With 10 years police experience in the UK and 18 years' experience in the security industry, part of it designing access-control and closed-circuit TV systems for prisons, I would surely recognize one. But we camped overnight in the desert several times, traveled on both major and minor roads. We didn't see anything looking like a camp or a prison. What we did see was high-level security, some gas exploration works, some new constructions that were definitely not prisons. We met lots of police officers doing their jobs firmly. Every day we bumped into and chatted with other cyclists doing the same as us. Freely traveling through a richly diverse, yet challenging environment.
None of the reports we read in Western news come from reporters who visit Xinjiang or interview Uygurs there, all of them quote "credible sources" which draw their information from other, ill-informed, research and misinterpretation which leads to flawed opinions. My advice, go there and see for yourself. (By Jerry Grey)