An online conference on ASEAN media's views of China's poverty alleviation was held on Monday, where media professionals and experts from China and ASEAN countries explored China's poverty alleviation program and discussed future cooperation.
The year 2020 is a landmark for China's efforts in securing a decisive victory in building a moderately prosperous society in all respects and winning the battle against poverty, and the online event was part of a series of activities aimed at promoting friendship and cooperation between ASEAN countries in the area of poverty alleviation.
Since China started reform and opening-up over 40 years ago, the country has lifted more than 800 million people out of poverty, contributing more than 70 percent to the world's total poverty alleviation, said Wang Hao, deputy editor-in-chief of China Daily.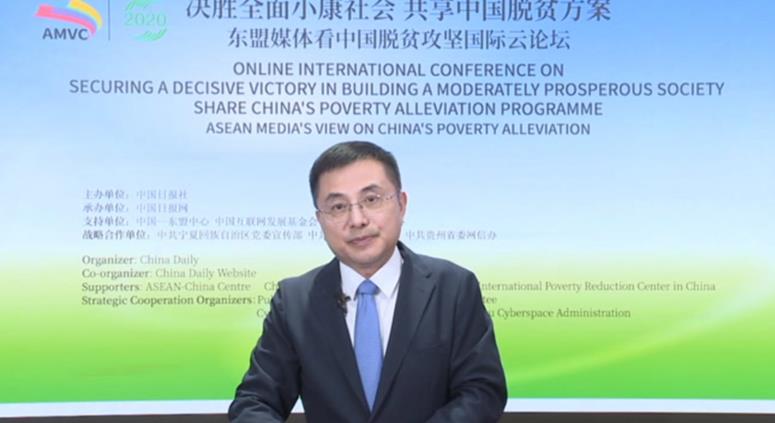 Wang Hao, deputy editor-in-chief of China Daily. (Photo source: chinadaily.com.cn)
The coronavirus pandemic has had a huge impact on the global economy and posed a severe challenge to anti-poverty efforts worldwide, he said.
Confronted with dual challenges, we should report the results of poverty alleviation from an objective perspective, which will boost confidence in pandemic fighting and poverty eradication alike, Wang added.
"In the first six months of 2020, despite the raging pandemic and sluggish international trade, ASEAN-China trade volume saw a trend-bucking growth of 5.6 percent, year–on-year," said Chen Dehai, secretary-general of the ASEAN-China Center.
Chen Dehai, secretary-general of the ASEAN-China Center. (Photo source: chinadaily.com.cn)
ASEAN overtook the EU to become China's largest trading partner, revealing the great potential and resilience for China-ASEAN cooperation, Chen added.
Participants attending the conference shared China's experience in poverty reduction as well as its solutions, providing intellectual support to ASEAN countries' efforts to achieve their goals in this regard. They called for closer cooperation between China and ASEAN in poverty alleviation.
To continue achieving goals targeting poverty reduction, Cambodia needs to carry out collaboration with international panels and other countries, especially China, who has a lot of experiences in the poverty reduction, said Steng Sataro, minister counselor of the Royal Embassy of Cambodia to China.
" I also hope that the cooperation between China and ASEAN, particularly China and Laos, would be more strengthened and able to help alleviating poverty in the regions," said Maliny Ophetsane, technical officer of the Department of Rural Development and Cooperatives, Ministry of Agriculture and Forestry of Lao PDR, and representative of the ASEAN+3 Village Leaders Exchange Program.
Apart from intergovernmental collaboration in fighting against poverty, Muhammad Irfan Ilmie, chief of Beijing Bureau of Indonesia Antara News Agency, also attached importance to media cooperation. "I firmly believe that closer cooperation between Indonesia's and China's media could help two countries in poverty alleviation," he said.
"ASEAN countries and China have been promoting poverty alleviation cooperation for years and have achieved very good results," said Ha Thi Tuong Thu, head of editorial secretariat desk of Vietnam Pictorial, Vietnam News Agency.
"ASEAN countries and China can also pay more attention to the role of media and publicity in their poverty alleviation cooperation," she added.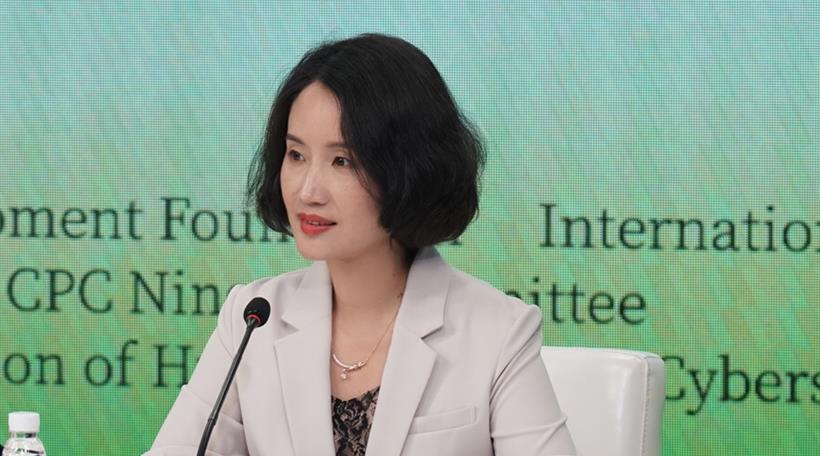 Han Lei, editor-in-chief of China Daily website. (Photo source: chinadaily.com.cn)
Participants also presented their opinions and suggestions on topics such as targeted poverty alleviation, industrial poverty alleviation, East-West collaboration for poverty alleviation, enterprise assistance and international cooperation in poverty alleviation.
China's digital revolution has played an indispensable role in the country's campaign to eradicate extreme poverty, said Han Lei, editor-in-chief of China Daily website, singling out its impact in helping close educational and medical gaps, as well as elevating the rural economy and public morale.
"Because of the internet, people have a better understanding of the campaign. Nearly 70 percent of China's internet users have participated in it, either by direct purchases, donations or just social media 'likes' and 'shares'," Han said, citing a recent survey.
"China has been ahead compared to many countries around the world in terms of making public healthcare facilities accessible to its people," said Kris Crismundo, reporter from The Philippine News Agency, adding that "China has been championing the implementation of critical infrastructure projects that makes the movement of people and goods easier."
Speakers agreed that exchanges and cooperation between China and ASEAN countries in the field of poverty alleviation have a good foundation, and the cooperation will continue to make new progress as long as all parties continue to uphold the purpose of improving people's livelihoods and moving forward side by side.
The conference was hosted by China Daily website. It aims to boost the ties between China and ASEAN countries, helping build a community of shared future between the two sides.