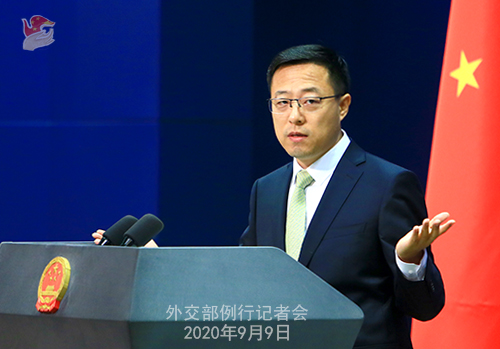 Foreign Ministry spokesman Zhao Lijian. (Photo source: fmprc.gov.cn)
China urged Australia on Wednesday to guarantee the safety and legitimate rights and interests of Chinese citizens and stop doing anything that undermines people-to-people exchanges between the two countries.
Foreign Ministry spokesman Zhao Lijian made the remark at a regular news briefing in Beijing after confirming that Australian officials had raided and seized items from the homes of four Chinese journalists in late June, citing a possible violation of the country's foreign interference laws.
"We ask Australia to immediately stop such blatantly irrational behavior, and stop harassing and oppressing Chinese personnel in Australia under whatever pretext," Zhao said.
The spokesman said that China has made representations to Australia many times. Australia has so far not provided any reasonable explanation for the searches and has not returned all seized items to the journalists, he added.
Australia's intelligence agency interrogated reporters from Xinhua News Agency, China Media Group and China News Service, and seized their laptops, cellphones and even children's tablet devices and electronic toys, according to Zhao.
The spokesman stressed that Chinese journalists stationed in Australia have been strictly observing local laws and regulations and have been doing fair and objective reporting, which has been universally recognized.
"They have done a lot for mutual understanding and friendship between the two peoples," he said.
Zhao said that the Australian government's behavior interfered with the normal reporting of Chinese media outlets in Australia, blatantly violated the legitimate rights and interests of Chinese journalists there and severely harmed the physical and mental health of the journalists and their families.
"This fully reveals the hypocrisy of certain people in Australia who claim that they champion press freedom and so-called respect and protection of human rights," he said, adding that their behavior is not constructive at all.
The four Chinese journalists have already returned to China, according to the spokesman.(By MO JINGXI)