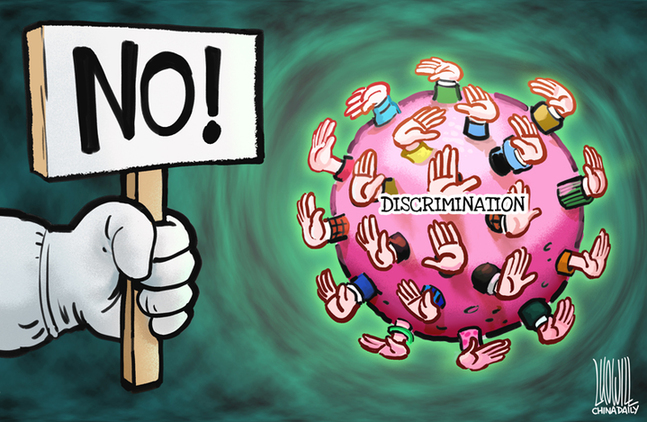 [Luo Jie / China Daily]
Chinese and African media outlets have vowed to strengthen cooperation in promoting the spread of objective and scientific information, while opposing fake news and racial stigmatization related to the COVID-19 pandemic.
Since the outbreak of the pandemic early this year, some Western politicians have made irresponsible remarks on scientific issues, such as those concerning the origin of the novel coronavirus, to incite hatred, said Tian Yuhong, executive secretary of the All-China Journalists Association.
Tian was speaking during the China-Africa Online Media Forum, hosted by the Belt and Road Journalists Network, on Thursday.
He said that some media outlets have disregarded scientific facts and spread these politicians' remarks in support of a "blame game" campaign. This has caused resentment among people of many countries and seriously damaged international efforts to fight the virus, he added.
Tian said Chinese and African media outlets should shoulder the responsibility they have "to resist the spread of false information and misinformation".They should also cover "the touching stories of China-Africa cooperation against the disease and the effective measures in the scientific prevention and control of the pandemic" to help Chinese and African people gain more confidence in defeating the virus.
He urged Chinese and African media to firmly support multilateralism, jointly prevent discrimination and stigmatization, defend the interests of developing countries, and safeguard international equity and justice.
Joint efforts urged
Kajubi Mukajanga, executive secretary of the Media Council of Tanzania, said that during the pandemic there has been a lot of suspect information-at local, regional and international levels-from so many sources. Sifting through the COVID-19 "disinfodemic" has been a challenge to Tanzanian journalists as they seek to give context to their stories, he said.
He called on Chinese and African media outlets to work together to fight against online disinformation laced with racist hate speech.
"Our societies need to be made aware of the fallacy of these claims which seek to attribute the disease to 'certain people'," he said. "While our reporters and news outlets are burdened with the task of fact-checking and debunking a never-ending stream of false claims, communities need to be engaged so that such racist and xenophobic fallacies do not develop roots."
Ahmed Sallam, the undersecretary of the State Information Service in Egypt, said that China and Africa have made joint efforts to counter the coronavirus. Both sides' media outlets have also played an important role in the fight, such as by publicizing the situation of the pandemic, promoting the scientific methods for the prevention and control of the disease, and refuting misleading statements about the epidemic. This was especially important in the early stage of the outbreak, Sallam said.
As the coronavirus spreads, the global community needs to constantly work together to counter the virus, he said.
"Thus, media members of the Belt and Road Journalists Network should work together to tell more positive stories about how the world is fighting against the virus, to encourage people to win the battle against coronavirus," he said.(By Chen Yingqun)