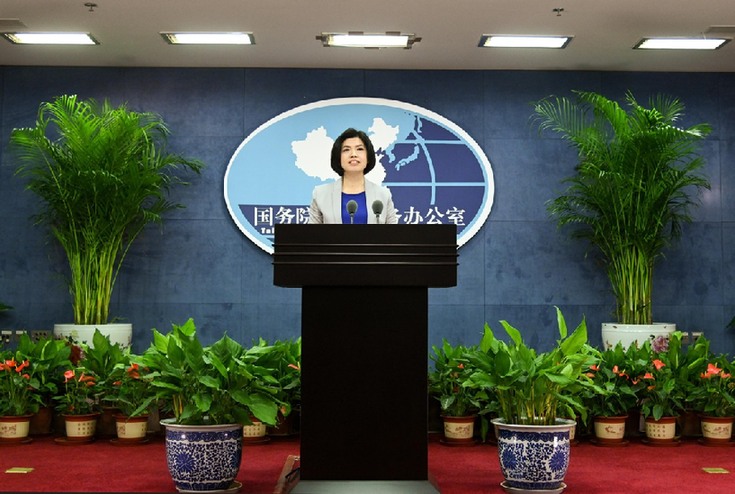 Zhu Fenglian, a spokesperson for the State Council Taiwan Affairs Office, at a press conference. (Xinhua photo)
A mainland spokeswoman on Friday urged the Democratic Progressive Party of Taiwan to stop unreasonable practices after the island expelled two Taiwan-based mainland reporters over political talk shows.
The DPP authorities reportedly claimed that the two journalists, both from the Southeast Television in East China's Fujian province, violated island regulations by producing political talk shows.
They revoked the credentials and entry permits of the two journalists, requiring them to leave the island by Friday and said they would investigate the situation of mainland media outlets in Taiwan.
Zhu Fenglian, a spokeswoman for the State Council Taiwan Affairs Office, said the office has noted reports and is following the development closely.
"The DPP authorities have brutally and unjustifiably suppressed the normal reporting activities of mainland journalists in Taiwan, exposing the hypocrisy of their so-called 'freedom of the press'," Zhu said.
Cross-Straits journalism serves as an important bridge to spread information, enhance mutual understanding between the two sides and promote emotional integration, she said.
For a long time, through a large number of objective and impartial reports, mainland journalists in Taiwan have played an important role as a bridge for the two sides, especially for mainland residents to better understand the island, she added.
Zhu said the legitimate rights and interests of mainland journalists should be protected and their reporting in Taiwan should be respected.
For some time, the DPP authorities have restricted and obstructed cross-Straits exchanges by various means, and now they are targeting the normal news coverage by the mainland media in Taiwan, which has seriously damaged the legitimate rights and interests of the journalists, she said.
She said that the DPP authorities should stop unreasonable practices immediately, or they will bear all the consequences arising there from.(By ZHANG YI)