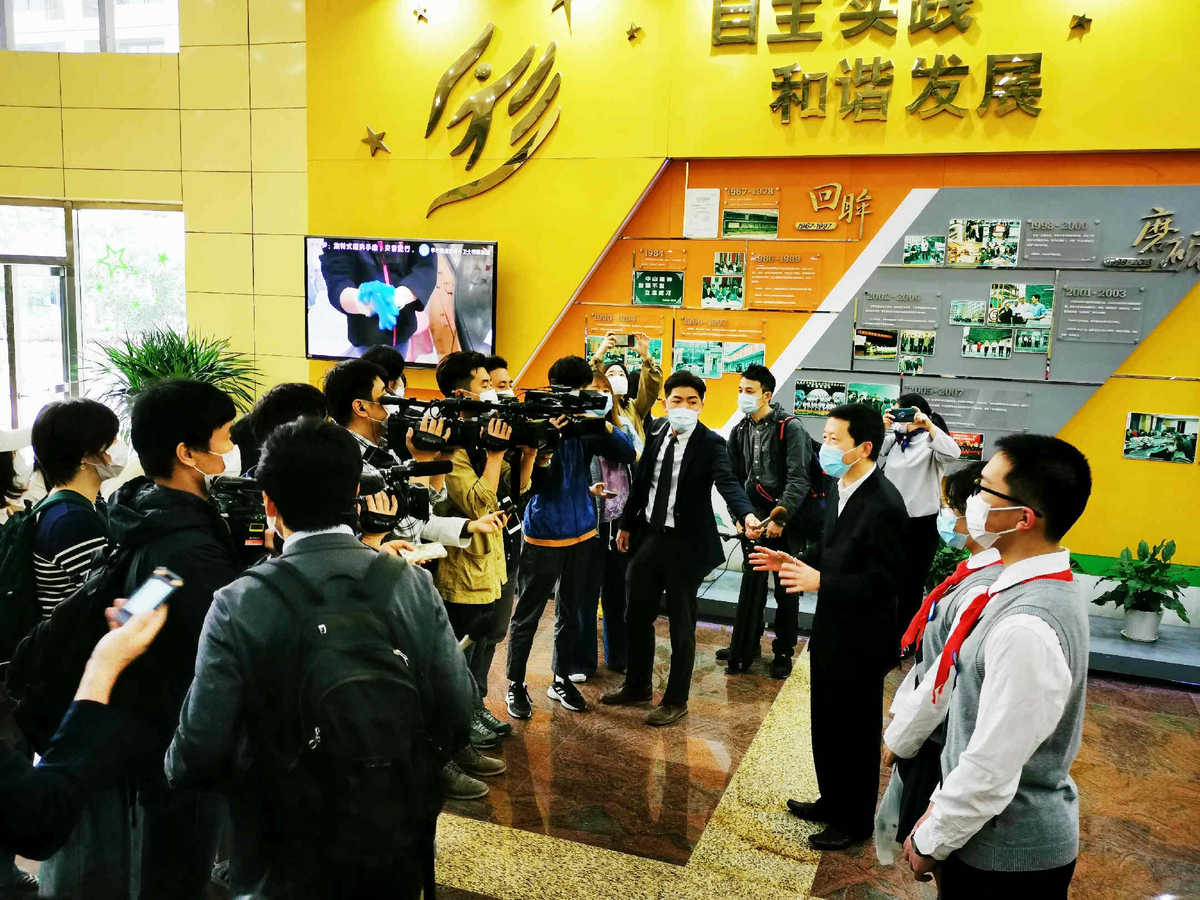 The principal of Zhongshan School in Shanghai and two students take questions from members of the overseas media, on May 7, 2020. (Photo provided to chinadaily.com.cn)
"Filing in campus in order", "taking the health crisis in their stride", and "undaunted" were how some members of the media from overseas described how Shanghai teenagers appeared on campus when school resumed for them following online study at home lasting more than two months.
Forty-nine journalists toured two middle schools on Thursday, the second day after students in the third-year of junior high and the second-year of senior high returned to school. They spotlighted the world's close attention on the city, as well as the country's gradual return to school, while some educational institutions in countries hit by COVID-19 are pondering campus plans.
The students' mental well-being after staying home since January was a focus in the media interviews.
Agence France Presse quoted Feng Zhigang, principal of the elite Shanghai High School, as saying that resuming classes is a responsible action, not only for the children's studies, but also for their physical and mental health.
"(At home) there is a lack of social activities, so long-term online lessons more or less will bring some problems," he said, adding that it's so far, so good on that front.
A story by Reuters said that students were "thrilled" when returning to class after months of lockdown despite compulsory face masks, temperature checks, ubiquitous hygiene products and the constant reminder of keeping a 1-meter distance from others, which might render an atmosphere different from before.
Feng was quoted in the Reuters story, saying that the school had a psychological guidance team to assist students during the isolation of online classes, which could never be a substitute for being reunited with friends and teachers in person.
"Teachers and students being together, this is the most effective," Feng said.
Some students said they were not daunted, but instead, had become used to such preventive measures, which have become thenew normal in public spaces in the municipality.
In an interview with China Daily on April 27, when the first group of students – those in the final year of senior and junior high – resumed classes on campus in the city.
"While implementing the ever-strict health standards and epidemic control measures and plans, the school didn't put excessive posters regarding contagion control on the walls to make students feel relaxed when returning to the school atmosphere that they were used to,"said Wang Sui, vice-president of the No 1 Junior Middle School Affiliated with East China Normal University.
In Shanghai, students in other middle school grades, as well as pupils inthe two senior grades at primary schools will resume campus study on May 18.(By Zhou Wenting in Shanghai)