Recent Western media coverage on so-called "forced labor" in China's Xinjiang relies almost entirely on a series of "questionable studies" by a few Western think tanks, an independent U.S. news website said in a recent investigative article.
"A close look at the reports churned out by these bodies reveal serious biases and credibility gaps that Western media willfully ignores," said the piece published on The Grayzone.
The article, titled "'Forced labor' stories on China brought to you by U.S. gov, NATO, arms industry to drive Cold War PR blitz," pointed out that "the latest allegations against China appear to form part of a PR blitz" launched by the West.
Ajit Singh, the article's author and journalist, said the Australian Strategic Policy Institute (ASPI) and Washington D.C.-based Center for Strategic and International Studies (CSIS) are the main institutions responsible for such forced labor studies.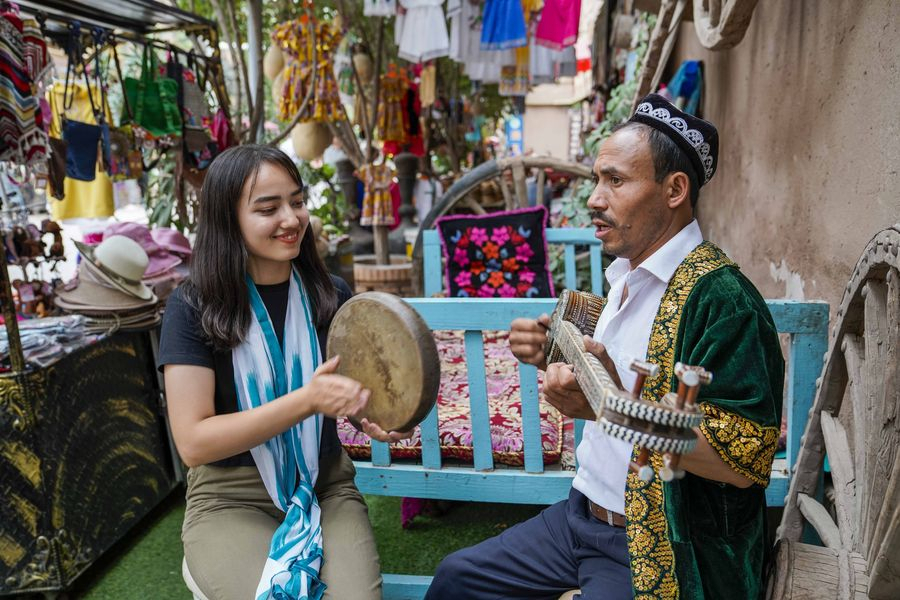 Local residents play music for tourists in the old town of Kashgar, northwest China's Xinjiang Uygur Autonomous Region, July 9, 2019. (Xinhua Photo)
Singh said the stories that the Western public reads on alleged "forced labor" are in fact "the direct product of an orchestrated PR program" backed by the United States, NATO, and arms manufacturers, all of which "stand to benefit handsomely from the intensification of a new Cold War."
China's Xinjiang Uygur Autonomous Region has strongly refuted a report on Xinjiang labor which was issued by an Australian think tank recently, saying it smears Xinjiang and its full of suppositions and fabricated stories with obvious ideological prejudice.
Elijan Anayit, a spokesperson for the Information Office of Xinjiang Uygur Autonomous Region's government, pointed out that the APSI has long been receiving funds from the U.S. government and arm dealers.
Anayit said it deliberately smears, vilifies and demonizes China for the investors' benefits.
The Chinese Foreign Ministry has also refuted untrue reports about the so-called "labor force" many times, saying that Chinese citizens, no matter what their ethnicity, race, gender, religion, are employed on the basis of equality and mutual consultation with the employer, and they are protected by the Labor Law and Labor Contract Law.