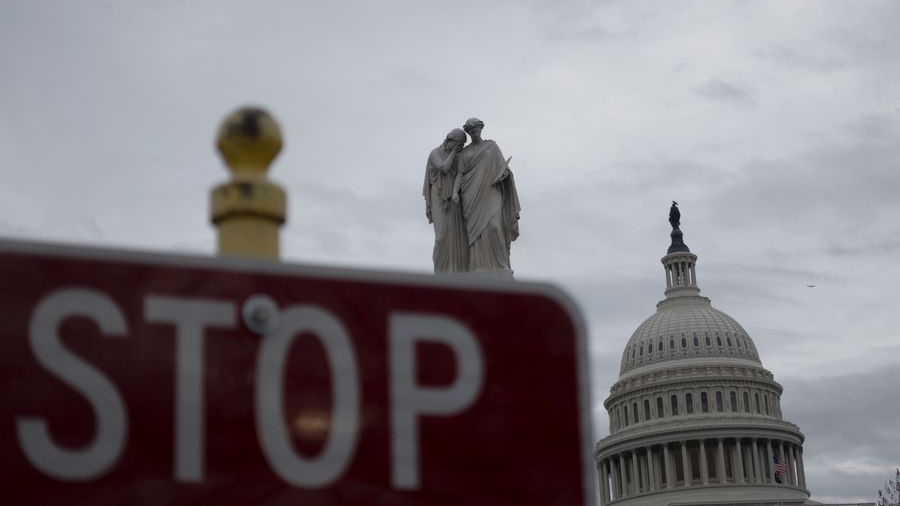 The Capitol and a stop sign are seen in Washington D.C., the United States, February 13, 2020. (Xinhua photo)
Editor's note: Hannan Hussain is a security analyst at the London School of Economics, South Asia Centre, and an author. The article reflects the author's opinions, not necessarily the views of CGTN.
In the latest set of allegations leveled by U.S. media, The Wall Street Journal has accused Beijing of leveraging American social media sites to spin the narrative on COVID-19.
The story, which relies less on evidence and more on sensational propaganda, states that "China has been buying up ads on U.S. social-media sites and adopting online tactics reminiscent of Russian disinformation campaigns in an apparent attempt to shape the story internationally about the coronavirus response."
The coverage arrives at a time when Washington's own COVID-19 response is subject to intense domestic and global backlash, with funding cuts and institutional threats putting U.S. leadership at odds with China's widespread cooperation. This is precisely why scapegoating Beijing is viewed as a top-most priority in Washington.
The story states that China's use of Facebook ads and Twitter posts is designed to "disparage U.S. efforts to fight the global pandemic."
The article offers no evidence of how Beijing's digital outreach has played out as a so-called "weapon" against U.S. interests, and what methods – if any – have accompanied these efforts.
In truth, Chinese media outlets have consistently informed the masses about current and future pathways to combating COVID-19, placing a high value on facts and verification.
To buttress this point, there is research to establish how Chinese internet technology companies have been central to the digitalization of key sectors (such as medical services, office work and education), helping to reshape people's perceptions and behaviors for the better.
The Wall Street Journal's insistence on framing Beijing's positive social media reception as a malicious attempt to rival the United States, only debunks its belief in free speech, transparency and open information.
One popular reference point throughout the article is that from "mid-February until early March, social media sites linked to Chinese state media posted more than 3,300 times a day, triple the normal rate."
A high rate of audience engagement establishes nothing adversarial. In fact, the WSJ's observation is derived from a threat analysis report by Recorded Future, a U.S-based cybersecurity consultancy firm, that falsely suggests that the World Health Organization reported the novel COVID-19 virus as "originating from Wuhan, China."
The report also adds that "over the course of the first five days of [social media] messaging, Chinese overt influence accounts repeatedly emphasized two points: First, that China was being transparent and helpful to the international community, and second, that the spread of the virus to new areas was limited."
What the analysis does not mention is that the Chinese government is on record establishing its contribution to data transparency – a move which the United Nations itself exported as a model for the rest of the world to follow.
Independent coverage by Reuters, the BBC, the World Economic Forum and Bloomberg builds on China's COVID-19 support to international communities and acknowledges that the spread of the virus was genuinely limited by state authorities.
Hence, there is ample reason to be skeptical of the WSJ's politically motivated assault on China.
More significantly, unwarranted parallels between China's social media reporting and alleged "Russian tactics" also stem from a larger narrative in Capitol Hill.
This narrative rests on the dangerous assumption that both countries are pursuing "disinformation campaigns" to sow "divisions over the COVID-19 crisis."
The entire campaign carries nothing but the unilateral will of the Trump administration, and has been widely criticized in recent weeks. Re-launching it as part of the WSJ's mainstream news coverage does nothing to salvage lost credibility.
The paper also blames Chinese tweets for stirring "anger about basic facts" and promoting "fictitious claims."
Put simply, this allegation contradicts the paper's own observation that Chinese presence in digital information circles has undergone an acceleration. Part of this acceleration in social media reporting owes to China's sense of responsibility and urgency to keep up with the breakneck pace of COVID-19 developments around the world. These include minute-by-minute changes in COVID-19 case counts, death rates, global policy measures, and economic implications.
WSJ's decision to overlook its own journalistic ethos to stage an attack on China's social media credibility proves only one thing: that it holds its own prescriptions for truth in ample disregard.
This week, the UN Secretary-General Antonio Guterres also warned of "a dangerous epidemic of COVID-19 misinformation" that does not leverage facts or science to further the cause of global unity.
As efforts get underway between top multilateral organizations and social media companies to root out false and dangerous information, the U.S. press threatens to undo any potential gains from this exercise, as long as it keeps politicizing Beijing's COVID-19 engagement.
Claire Wardle, a leading expert on online misinformation, points out in Nieman Reports, the publication arm of Harvard University's Nieman Foundation for Journalism: "Familiarity and repetition play a significant role in what and how we remember information. So when you've seen the falsehood and conspiracy multiple times online," she argues,"then you see a major news outlet repeat the falsehood as they explain why it's not true, our brains struggle."
Hence, WSJ's central claim that China is pushing viral messages "to shape" the COVID-19 narrative is a brazen departure from that very singular discourse. (by Hannan Hussain)