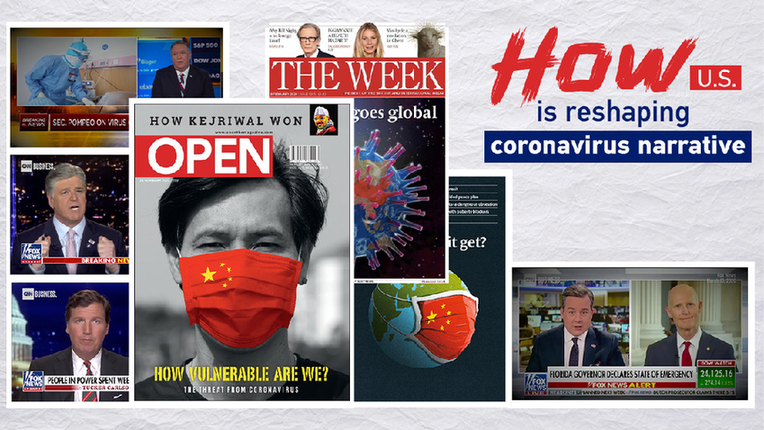 Editor's note: The fight against coronavirus requires global solidarity, but American politicians are using the outbreak to score political points against China. The media is not doing a satisfactory job either. In a recent Gallup poll, only 44 percent of Americans approved of the media's coverage, ranking it last in all the country's institutions. T-House has produced a video showing how the U.S. is reshaping the coronavirus narrative.
The fight against any pandemic requires global solidarity. This is common sense. But as coronavirus infections escalate in the U.S., the propaganda campaign within the country and against China intensifies.
An analysis of politicians' remarks and media reports found three Golden Rules in U.S. attempts to shape the coronavirus narrative.
Rule 1
Politicizing the virus
Despite scientists' warnings, U.S. President Donald Trump downplayed the virus, calling hysteria over it a Democratic "hoax."
While accusing Democrats of politicizing the outbreak, Trump didn't waste the chance to attack his rivals.
Pro-Trump media immediately chimed in with the president. They first misled the public that the coronavirus is no more dangerous than the seasonal flu, and then claimed the panic over the virus was to sink the economy and hurt Trump's chances of re-election.
Rule 2
Play the blame game
As the outbreak spiraled, the Trump administration desperately lashed out to cover up its mismanagement. As the virus was first found in China, the country has become the top pick in Washington's selection of scapegoats.
Despite the fact international experts are still tracing the origin of the virus, Trump and Secretary of State Mike Pompeo have repeatedly called it a "Chinese virus."
China's anti-virus efforts are recognized by international organizations and governments. Its strict quarantine measures are believed to have been vital in curbing the spread of the disease, and its experiences have provided references for policy making around the world.
But the U.S. is deliberately turning a deaf ear to it. For American politicians, underscoring China's missteps has been a "time-tested" approach to distance themselves from critics.
Rule 3
Protecting the U.S.' image
As coronavirus spread across the globe, the U.S. started to position itself as the "greatest humanitarian" the world has ever known. A State Department cable obtained by The Daily Beast reveals the White House is pushing officials to paint U.S. anti-virus response as "extraordinary humanitarianism."
But is it the case? At least for China, the answer is no.
In the face of a global pandemic, it's time for solidarity, facts, and moving forward together. But some American politicians and media outlets are trying to tell the world a different story by reshaping the coronavirus narrative.(Script: Liu Jianxi)