China on Monday slammed all conspiracy theories spun by politicians and media in certain Western countries, namely Canada and the United States, which have been politicizing the COVID-19 outbreak and stigmatizing China. The Chinese Embassy emphasized that Canadian media has been making "groundless accusations" against China.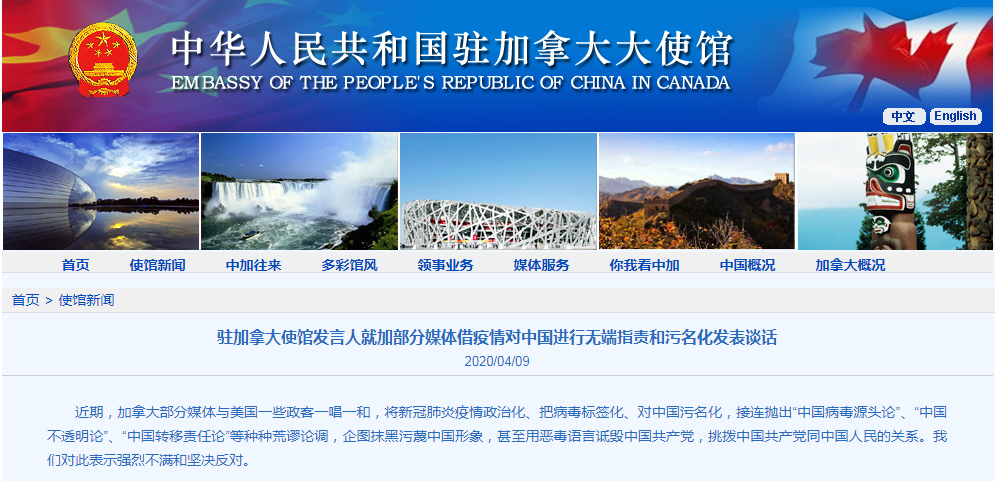 The Chinese Embassy in Canada said in a news release on its website that conspiracy theories such as "China being the origin of the virus, China being untransparent, and China deflecting blame for the outbreak" lodged by some Western politicians and Canadian media are an attempt to "tarnish the image of China, even slandering the Communist Party of China (CPC) with vicious language, and trying to drive a wedge between the CPC and the Chinese people."
"We are strongly dissatisfied with and firmly oppose to such accusations," the embassy said.
Diplomats, government officials and media organizations from a number of Western countries, especially Canada and the U.S., are seemingly making consorted efforts to push forward those opinions by frequent media presence and coverage.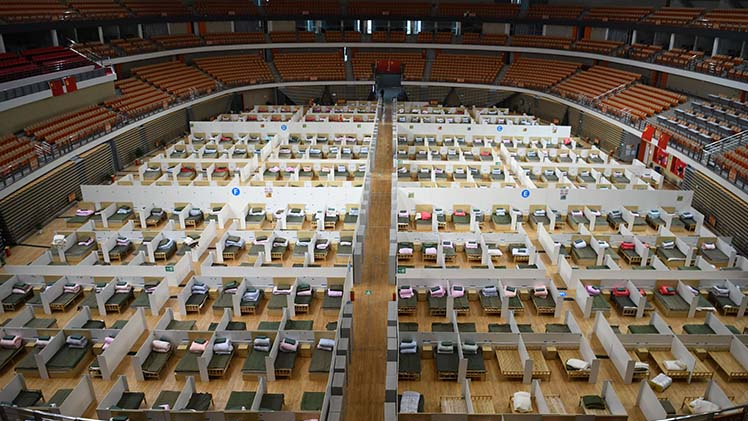 An interior view of a "temporary hospital" for COVID-19 patients with mild symptoms at Wuhan Sports Center in Wuhan City, central China's Hubei Province, February 12, 2020. (Xinhua photo)
The embassy clarified those theories one-by-one by listing major facts.
The foremost one was about China's transparency. In the statement, the embassy referred to a five-page long timeline published on Monday composed by Xinhua News Agency based on official statistics and news reports.
"China has acted in an open, transparent and highly responsible manner in timely releasing the related data," the embassy said. "Without China's timely release of information, how could the U.S. side issue a health warning for traveling to Wuhan on January 7?"
It also restated that China's donations of medical supplies and equipment are not trying to shift the blame, but instead, are out of humanitarian purpose.
"These people's unprovoked accusation against China is gauging the heart of a gentle man with one's own mean measure," the embassy said.
Other political issues the embassy touched on have included Taiwan and the Chinese government.
The embassy, as representing China, said that China has managed to hospitalize and treat all of its domestic cases, and achieved great process in virus containment in just two months.
China again said "countries must rise above ideological difference and reject baseless speculations," and stressed it's willing to continue to help the world fight the virus.
"The virus recognizes no borders or races," the embassy said, adding that "now is the moment for solidarity, for respecting facts and for fighting together."