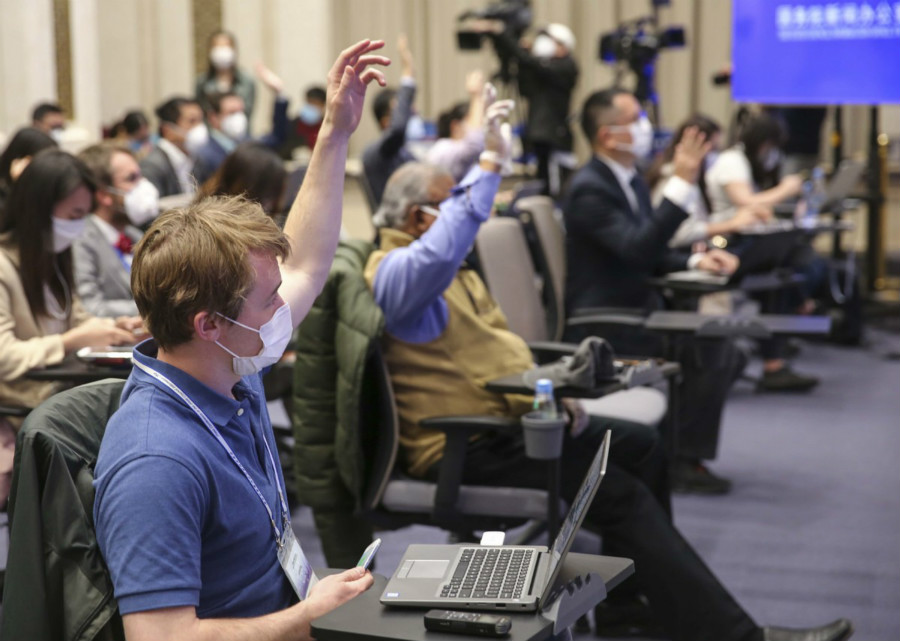 Journalists raise questions at a news conference held in Beijing, on March 16, 2020. (Xinhua photo)
The Belt and Road News Network, or BRNN, news alliance has called on members to continue to convey factual and reliable information on the COVID-19 pandemic, fighting against rumors and misinformation and strengthening global coordination and cooperation amid the outbreak.
"The timely and accurate coverage of the disease, how it develops and how it could be controlled, will shape a favorable public opinion for social unity and a science-based approach," the BRNN secretariat said in an open letter to members on Wednesday.
The BRNN was jointly established by People's Daily, based in Beijing, and media organizations from countries and regions involved in the Belt and Road Initiative. Its aim is to promote people-to-people exchanges among the countries that participate in the BRI.
The letter called for greater international media coordination and cooperation and more sharing of reports regarding the novel coronavirus outbreak. It also encourages members to tell stories of how countries are fighting together by looking out for each other in order to help each other.
"The battle against COVID-19 is a war for all human beings. China and countries along the Belt and Road have supported each other," it said.
The letter added that, while China received support and donations from the international community at the height of the epidemic, it is also reaching out, sharing its experience and contributing to global virus prevention and control when other countries are affected by the virus.
It said that the media "play a vital role" in this global fight against the virus and appreciates that BRNN members are providing fair and balanced coverage.
The BRNN secretariat also urges all members to uphold media and moral responsibility and prioritize human health and safety in their reports.
"News coverage could also play a role in disease prevention and control and in this fight for life. We should highlight the selflessness and sacrifice and make our reports people oriented and life oriented," it said.