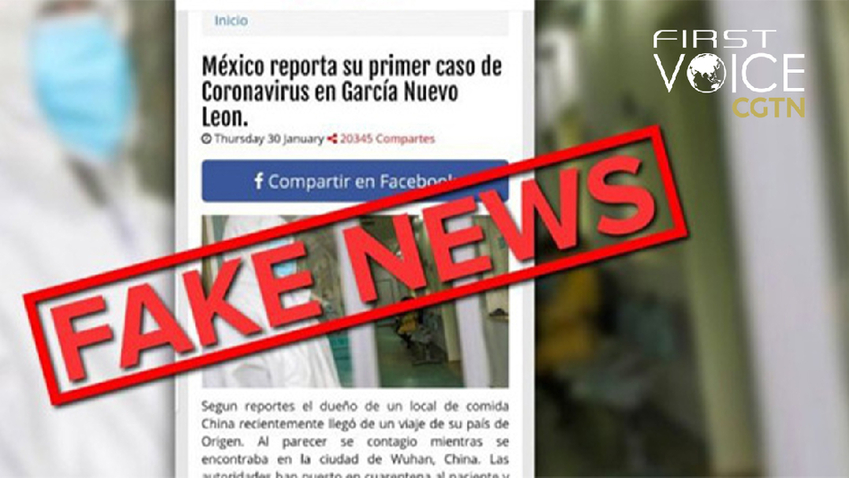 As the COVID-19 spreads to many nations around the globe, so have the rumors and misinformation about it. This shows there is an urgent need for countries to fight against the virus, but also a need to identify the fake news on many battlegrounds.
On January 28, Washington Post tech policy reporter Tony Romm wrote an article on "Facebook, Google and Twitter scramble to stop misinformation about coronavirus," saying "almost four years ago, inaccurate posts about the global, mosquito-borne Zika illness dwarfed the popularity of more authoritative sources of information about the outbreak, according to researchers at the Medical College of Wisconsin in Milwaukee."
This means identifying fake news on any epidemic is a must for tech platforms, but even that is not enough.
Governmental agencies also need to take responsibility to show the facts on their websites as well as their social media accounts. For example, on Twitter, if you search for "coronavirus," a "Know the facts" section will appear under the "Top" tab.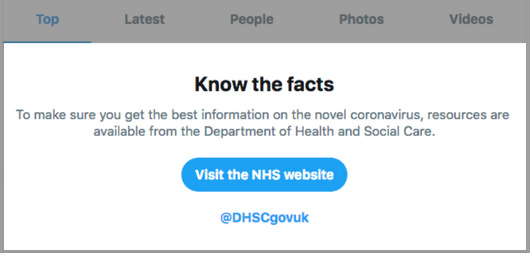 Screenshot of Twitter's "Know the facts" tab.
The U.S. version of Twitter provides a link to the Centers for Disease Control and Prevention (CDC) to inform American users on the facts, while in the UK version, the National Health Service (NHS) is linked.
As health organizations, they also have a responsibility to tell the facts by using their expertise knowledge on the issue.
The World Health Organization (WHO) gave an example by setting up a "Coronavirus scam alert" for people to check if emails relating to the virus are sent by the WHO or if they're fake disguising as the WHO to steal your money.
But that is still not enough. Before posting any information, the public needs to first think: Will it help prevent further viral infections, or could it do more harm by spreading it? People of all walks of life need to be meticulous in dealing with science pitches, because it relates directly to people's health issues, and it is not a laughing matter.
We need to know the difference between misinformation, pseudoscience and the science waiting to be developed.
For example, many people are saying that garlic can cure the disease. Would you say this is misinformation? It's not that simple. Garlic has been proven by many botanists, as well as pharmacy scientists, to kill germs, but which clusters of germs can be killed by consuming garlic are yet to be known.
WHO further clarified it on its social media account by saying, "Garlic is a healthy food that may have some antimicrobial properties. However, there is no evidence from the current outbreak that eating garlic has protected people from the new coronavirus. "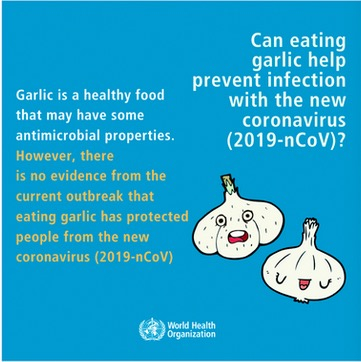 Screenshot of World Health Organization's Facebook post on whether garlic can prevent the coronavirus.
We also need to know that some scientific research may not be true today, but it may develop to an advanced stage several days or weeks later. Some news may not be based on facts, but it may be some scientists' opinions or suggestions based on their expertise. Moreover, sticking to old findings may not be accurate when new findings have replaced them. When that happens, to blame someone based on older research just does not make sense.
For example, many blame China for not containing the virus and thus it has spread all over the world. Is this the truth? Let's say this, we admit that the authorities were slow on informing the public at first, but we need to also admit that the government both in national and local levels in China have rolled out strict quarantine measures to prevent it from further spreading later on, which has resulted in great progress. On February 27, the Associated Press reported that two days earlier, it was the first time more new cases of COVID-19 were reported outside China than in China.
Many answers to such questions should be more than a "yes" or a "no." We need to know the facts first and then the readers can right the wrongs themselves. We also need to differentiate the facts, the opinions and other information that may not make sense in this field, but it may work well in another. Still, a lot of information needs to be updated.
A widespread example is that many said the virus originated from China. Fox news commentator Jesse Watters wanted the Chinese to apologize for eating raw bats.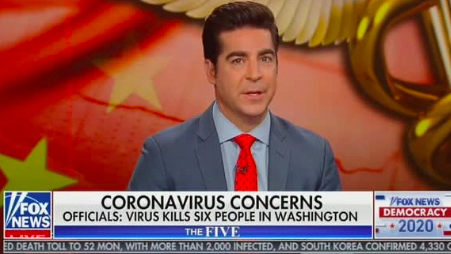 Screenshot of Fox news commentator Jesse Watters says on live television that he wants the Chinese to apologize for eating raw bats.
There's no clear evidence of such Chinese eating raw bats, as researchers point out that bats may be the origin of the virus, but there is also a likely intermediate host such as the pangolin, which may have transferred the virus from bats to human beings.
So, did the virus originate in China? One month ago, medical workers thought it may have originated from a fish market in Wuhan, after some of the first few patients had links to that market. However, as the researching process develops further, some epidemiologists have found out that it may not have originated in China, which means the claim that the virus comes from China is more than a true or false statement as it depends on research that may still need more time to further be developed. To blame it on the patients does no good to anyone, as they are the victims themselves.
We need also often go to false news checking platforms to learn why there was misinformation, and how people intentionally misled the public or unintentionally got it wrong. By doing this, we can then further identify similar types of false news later on.
There are also many examples outside China. One of them is that Italian news agency Ansa said that in Italy, schools have been ordered to close due to the severity of the COVID-19 situation there. However, the Italian education minister clarified later that decision of school closures was yet to be made.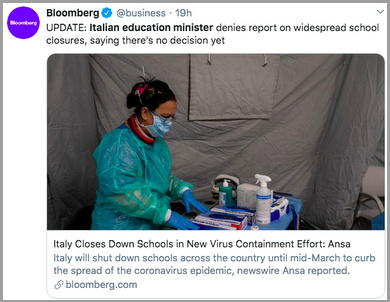 Screenshot of Bloomberg news shows Italian education minister denied report on school closures.
This may not be categorized as "fake" news, but only the details of such information need to be double-checked.
Another example is that BBC News reported a man in Iran told them that the death toll is higher than reported, but later an Iranian pulmonologist rejected the claim in a video to show why that is actually a rumor.
However, we needn't consider all unchecked information as rumors, as it may misjudge someone who may be telling the truth, as in Dr. Li Wenliang's case. But to cite Dr. Li wrongly doesn't mean we needn't information to be left unchecked, because it may still cause chaos. If there is a source that keeps spreading false news, we must report it to police to shut down the source, and if it is intentionally doing so, law enforcement agencies should act to punish such offenders.
Viruses are bad for all human beings. To intentionally spread rumors about the disease worsens the situation. However, to tell the right from the wrong takes time, and to explain it in detail takes even more time and energy than just spreading the unchecked information in a second. But the time is needed, as we are responsible for not only the health of the patients, but also the order of the society.
As the virus identifies no nationalities, so do the rumors, and therefore we need to fight this together. (Script writer: Xiong Tong)