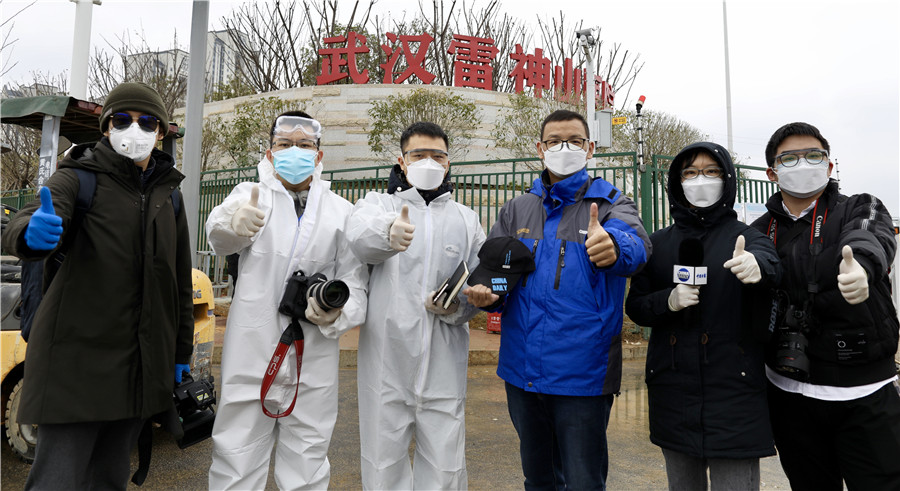 China Daily reporters (from left) Meng Zhe, Zhu Xingxin, Wang Xiaodong, Wu Yong, Wang Xiaoying, and Su Feng thumbed up for a photo at the Leishenshan, or "Thunder God Mountain", Hospital in Wuhan, Hubei province. (Photo provided to China Daily)
As more doubts spread over the internet, and various photos and talks make it hard to distinguish real or fake viral information on WeChat, I decided to visit the hospitals and find out what was really going on.
On Jan 20, I arrived at the fever clinic of Zhongnan Hospital of Wuhan University -- without any protective wear, misguided by the information of "no sustained human-to-human transmission".
Two young nurses were talking and laughing as they set up a desk for measuring temperature at the gate.
Entering the fever clinic, I saw 40 some patients – all wearing facial masks. Although the crowd was larger than usual, they all waited in line quietly.
However, the medical workers were fully armed wearing protective clothing and masks. There were also two policemen stood in the clinic room.
I could feel something different under the calm surface.
When I went back, I wrote a story about the prevention and control of the epidemic being upgraded in Wuhan with a picture of the medical staff.
In the evening of Jan 22, three days before the Chinese Spring Festival, all kinds of news and gossip had widely spread, occupying people's minds.
Sitting at home and seeing my cellphone bombarded by the messages, I had a hunch that the control measures would be further upgraded.
At 2:31 am, the city announced a lockdown.
At 9 in the morning, I walked out onto the street.
I walked through the major intersection, which was always busy with cars and pedestrians waiting to go across, and walked on the popular Happy Avenue that leads to the high-speed rail station.
The bustling metropolitan became unbelievably quiet, and seemed like an empty city.
I tried to calm down and visited two neighborhood supermarkets, a large one, a peddlers' market and a pharmacy.
The lockdown did spur panic buying, with food and vegetables selling out at the stores. Masks were still out of stock, even cold medications and vitamin C.
Then, I went home, turned on my computer, and welcomed a special Spring Festival – working against the clock, covering stories about the fight against the novel coronavirus pneumonia outbreak.
The city's epidemic command center issued five announcements on that day and three on the next day, including the lockdown of the city, guaranteeing material supplies, channels to accept donations, suspension of taxi and online car-hailing services, as well as plans to build an emergency field hospital like Xiaotangshan Hospital in Beijing, which was constructed in 2003 within just seven days to treat SARS patients.
On the night of Jan 24, the eve of the Chinese Spring Festival when families reunite, the construction of a makeshift hospital (later named Huoshenshan, or "Fire God Mountain") started – with tens of millions of people around the country watching the construction through a livestreaming broadcast.
Also on that night, people were moved by the photos and videos of medical staff of the People's Liberation Army headed to support Wuhan.
It is the army that is always bound to appear at critical moments and the army that people trust in.
On the night of Jan 29, I came back late. When I sent materials to an online working group, it was nearly 1 am the next day. But my colleagues responded immediately.
The working group had never rested since we started the special report on the NCP epidemic – collecting information, selecting topics, submitting and revising manuscripts.
Whether it was colleagues at the headquarters in Beijing and other bureaus, or the two groups of front-line reporters sent to Wuhan, they seemed to always be online.
On Feb 3, we were asked to start collecting information on people who are in need of hospital treatment in Hubei province, including confirmed patients, highly suspected cases, and patients with fever from unidentified reasons.
Within one day, I answered nearly 70 calls and heard different stories from a
daughter in other provinces who worried about her infected parents, a young man who shoulders the responsibility to take care of his infected parents and younger brother, and many other people.
Hearing people telling me what they were experiencing in different voices and tones, I felt the pain of our city. As one video goes, "My city is sick. Wuhan, we're waiting for you to get better!"
After I sent the list to the relative department, a patient told me she was finally hospitalized. I also cried hearing that news.
In the fight against the epidemic, we the journalists are trying to do more for people.
We will always be with the people.
The author Zhou Lihua is director of China Daily Hubei Bureau.
(Translated by Zhang Xiaomin in Dalian)
Zhou Lihua, a reporter with China Daily in Wuhan, Hubei province. (Photo source: China Daily)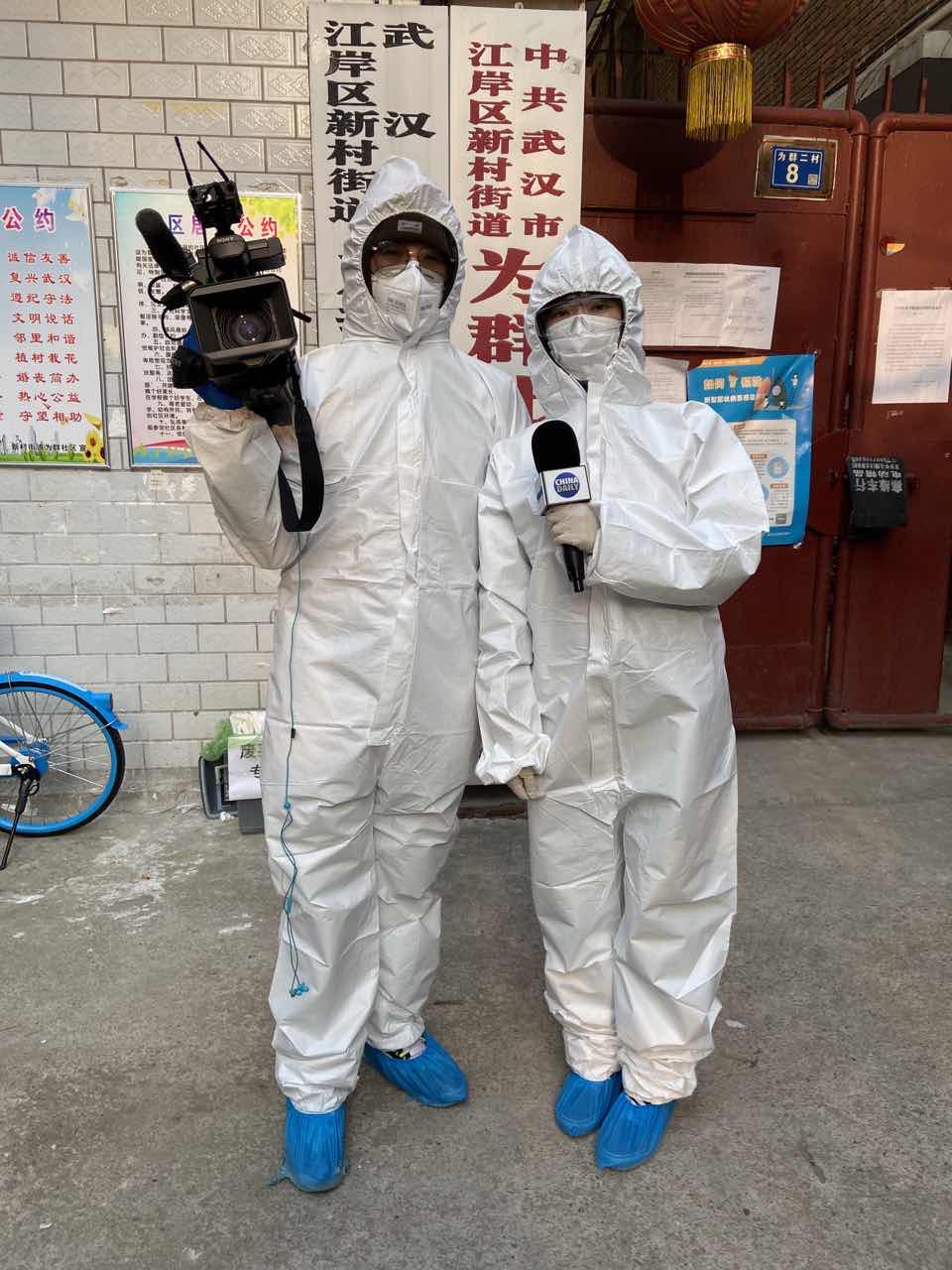 Meng Zhe (left) and Wang Xiaoying, reporters with China Daily, interviewed at a community in Wuhan, Hubei province. (Photo provided to China Daily)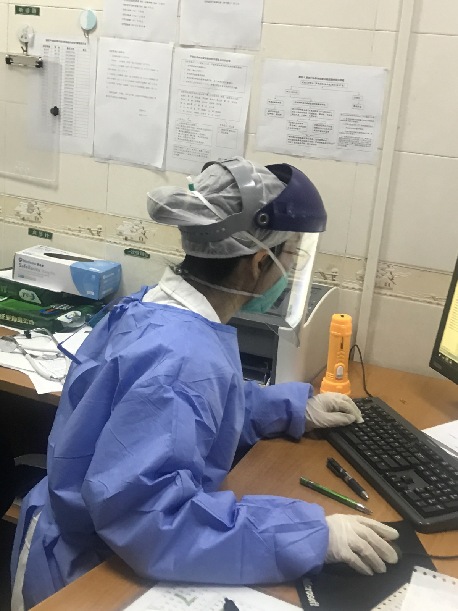 On January 20, a medical staff was armed with protective clothing and mask at Zhongnan Hospital of Wuhan University in Wuhan, Hubei province. (Photo source: China Daily/Zhou Lihua)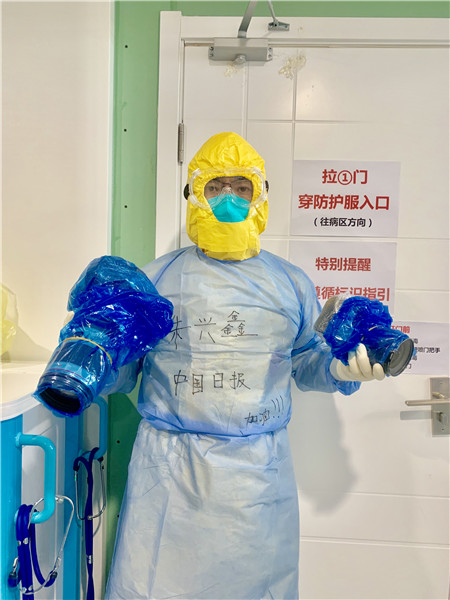 Zhu Xingxin, a reporter with China Daily interviewed an isolation ward at the Sino-French Wuhan ecological demonstration city section of Tongji Hospital in Wuhan, Hubei province. (Photo provided to China Daily)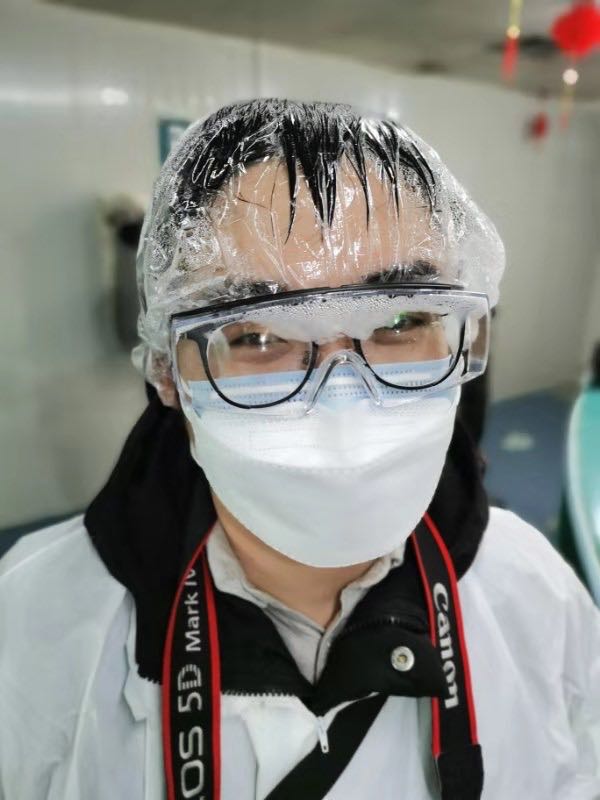 Su Feng, a reporter with China Daily in Wuhan, Hubei province. (Photo source: China Daily/Wu Yong)