Beijing's achievements in the high-end manufacturing industry provide valuable experience for Cuba to learn from, said Jorge Luis Delgado Felipe, president of the Cuban Journalist Association in Ciego de Avila Province, during the first day of the 2019 Beijing International Media Forum and Tour.
With an aim of showing Beijing's progress, strengthening cooperation and enhancing the city's international influence, the five-day event invited journalists and media representatives from 12 countries to participate in a series of activities in the city last week.
On Dec 10, guests paid a visit to Beijing Electric Vehicle, where they gained understanding of Beijing's innovation and endeavors in the high-end manufacturing industry.
Founded in 2009, BJEV is an electric vehicle subsidiary of Beijing Automotive Group which leads the country in car manufacturing.
Exhibited in the hall are a variety of electric vehicles which attracted foreign journalists to test drive. Some of them posed for photos like auto show models.
According to staff members at BJEV, the company's electric vehicles are cost-effective to consumers. Its latest product's endurance mileage has reached 600 kilometers and the price does not exceed 200,000 yuan ($28,560).
Over the past six years, BJEV has ranked first in China's pure electric vehicle sales, totaling 158,000 units in 2018.
Foreign journalists were amazed by the huge market for electric vehicles in China.
As an emerging industry, the electric vehicle industry can create a large number of jobs and promote China's economic development, said Opendra Sharma, general manager of Nepal National news agency.
The visitors then noticed a screen in the hall, displaying statistics about environmental protection.
By the end of November, the pure electric vehicles produced by BJEV had reduced 1.62 million metric tons of vehicle emissions, the equivalent to planting 5.92 million trees.
Having learned that BJEV's electric vehicles have been exported to overseas markets, Sharma said, "It can also make contributions to the green development in those countries, which is really great."
Following the visit to the exhibition hall, the international journalists headed to BJEV's experimental center.
With an investment of nearly 2 billion yuan, the experimental center covers 50,000 square meters. It contains 88 laboratories and more than 400 suites of testing facilities.
The center showcases BJEV's pursuit of product safety and innovation, and is of great significance to boosting growth of the city's high-end industries, its staff members said.
The media group visited numerous verification systems and test platforms at the center, which serve six key sectors of electric vehicle manufacturing, including electric motor, intelligent connectivity and complete vehicle application.
To ensure product quality, every new vehicle will undergo 378 vehicle tests, 407 system tests and 4,774 component tests in the center, according to staff members.
Delgado Felipe from Cuba was impressed by the advanced electric vehicles and equipment at BJEV.
"What I see here explains China's efforts to tackle challenges brought by global warming and environmental changes," he said. "Considering most vehicles in Cuba are powered by fossil fuels, I hope China and Cuba can reach cooperation in electric vehicles in the future."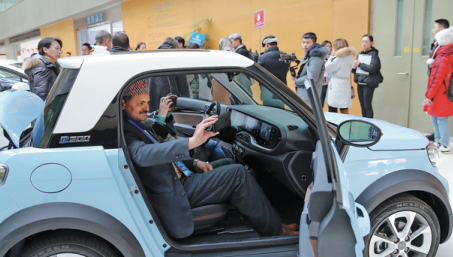 A foreign media representative takes selfie during a visit to an electric vehicle company in Beijing. (Photo source: China Daily/Wang Zhuangfei)