Beijing hosts global media representatives to promote greater in-depth communication.
Media outlets from 12 countries including Brazil, Japan and Turkey signed up to a joint initiative to promote in-depth communication and mutual learning at the 2019 Beijing International Media Forum in Beijing on Dec 13.
The forum came after a four-day tour, during which journalists from overseas visited places including Beijing Electric Vehicle, the Beijing Metro Network Control Center and Beijing Daily to learn about developments in China's capital city.
The event was co-hosted by the Information Office of Beijing, the All-China Journalists Association, the China Public Diplomacy Association and Beijing Media Network.
Under the theme "Connectivity, Mutual Learning and Win-Win Cooperation", a main forum and two sub-forums were held to discuss opportunities and challenges facing media worldwide. They also covered topics such as media cooperation and international communication against the backdrop of globalization as well as technology transformation and media trends.
"There is a common saying in China that the unique features of a local environment always give special characteristics to its inhabitants. The same applies to media of a city, which will have some DNA of that city," said Du Feijin, head of the publicity department of the Beijing Committee of the Communist Party of China.
"With camera lens and pens in hand, the media records and promotes history, and puts energy into people-to-people exchanges. Exchanges between international media outlets are, in fact, dialogues among cities," he added.
Following a signing ceremony between the Beijing Media Network and three overseas news agencies from Ethiopia, Nepal and Turkey, spokesman for the Beijing government, Xu Hejian, shared with the participants details of the joint initiative.
The initiative focuses on promoting in-depth media exchanges and win-win cooperation among international cities, enhancing mutual learning and people-to-people exchanges and expanding the circle of media friends to create a community with a shared future for mankind, according to Xu.
"Media should do much more to promote stable development where it operates. We want to make real news and combat fake news," said Nikolai Selishchev from the Russian news agency TASS.
Deputy Publisher of The Beijing News, a Beijing-based newspaper, Li Hai said to ride the crest of high-tech waves the world media should find and learn the language accepted and used by netizens. "The language needs to be mobile, intelligent and interactive," Li added.
Liu Xiaoying, a media scholar and professor at Communication University of China in Beijing, said, "For media, professionalism is king."
Shimada Akihiro from Tokyo Shimbun newspaper shed light on the influence media has on city-to-city exchanges, noting that Beijing's smoking regulations have raised awareness of the issue among the public in Tokyo.
yinruowei@chinadaily.com.cn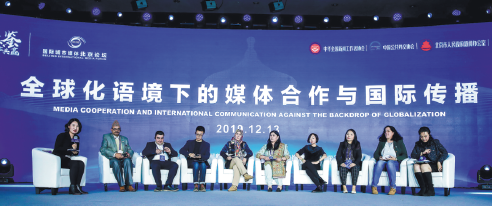 Media representatives from China and abroad share insights into cooperation and communication worldwide at the forum in Beijing on Dec 13. (Photo source: CHINA DAILY)