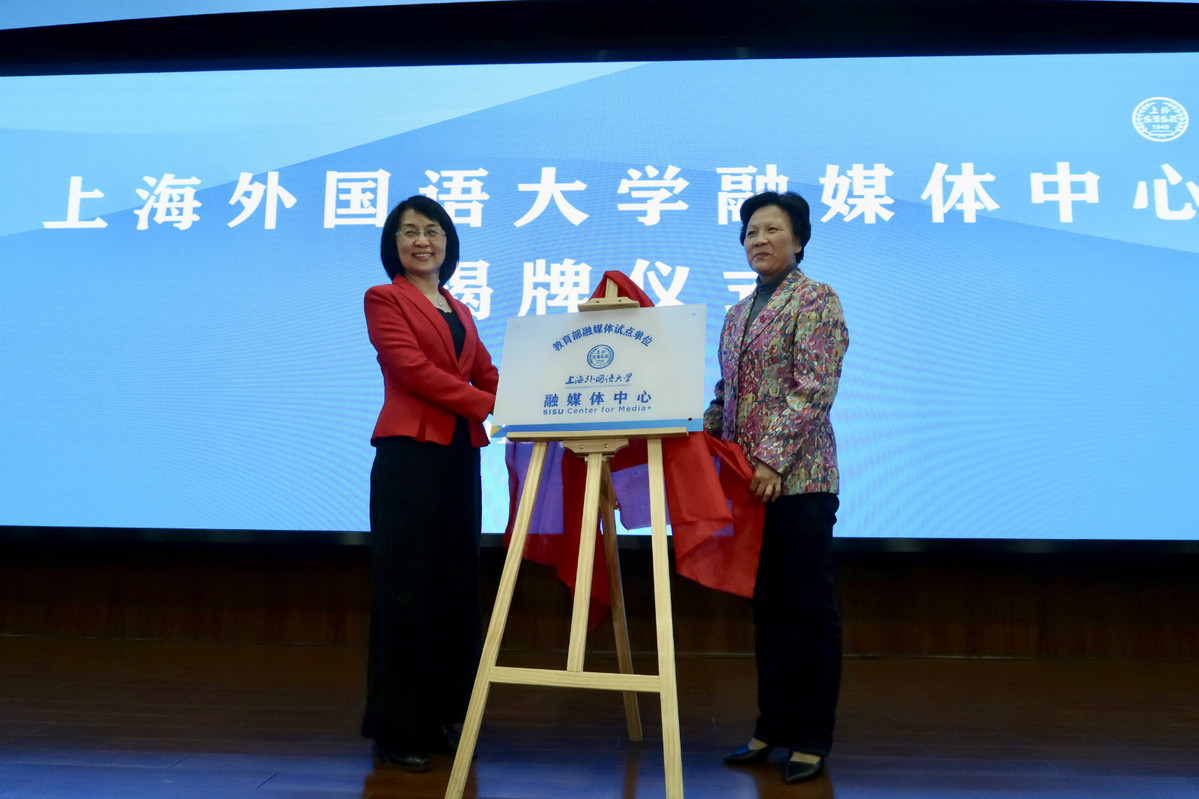 Zhu Baoxia, China Daily secretary-general (left), and Wang Jing, deputy Party chief of Shanghai International Studies University, unveil the placard "SISU Center for Media+" in Shanghai on Wednesday. (Photo source: chinadaily.com.cn/Xing Yi)
Shanghai International Studies University on Wednesday opened a media center as part of a pilot program by the Ministry of Education to promote media convergence education.
Named "Center for Media+", the center will serve as a platform for student media practice, training and cooperation between the university and media agencies.
Guo Ke, dean of the School of Journalism and Communication of SISU, said the center will produce news stories from the perspectives of SISU students that tell stories about China to the world.
He added that the center will also provide new methods for language teaching and research through multi-language public opinion analyses.
Zhu Baoxia, secretary-general of China Daily, said SISU is a cradle for top linguists in the country, many of whom have dedicated themselves to China's international communication efforts.
"The opening of this center will inject more vitality and opportunities for SISU into cultivating more media professionals," she said.
SISU on Wednesday also launched the Swahili and Hungarian versions of its official website, bringing the total number of languages the website can be read in to 25. An official SISU account was also created on Douyin, a popular Chinese video-sharing app.
A number of veteran reporters and editors, including those from Xinhua News Agency and China Global Television Network, were invited by SISU to provide guidance to the students.
Established in 1949, SISU was originally the Shanghai Russian School before it was transformed into a top-ranking university in the country that offers a diverse selection of courses including arts, education, economics, management and law, with language and literature as its pillar.