The rapid development of the internet has brought more opportunities for media convergence, officials and industry insiders said at a forum during the ongoing sixth World Internet Conference on Monday in Wuzhen, Zhejiang province.
Zhuang Rongwen, minister of the Cyberspace Administration of China, said the internet has generated new products and platforms in recent years. And the emerging technologies and patterns have played roles in sharing information, expanding exchanges and enriching people's lives.
"China attaches great importance to the integrated development of the media," Zhuang said.
Media outlets have created new products based on media convergence by using the technologies of big data, virtual reality and artificial intelligence, he added.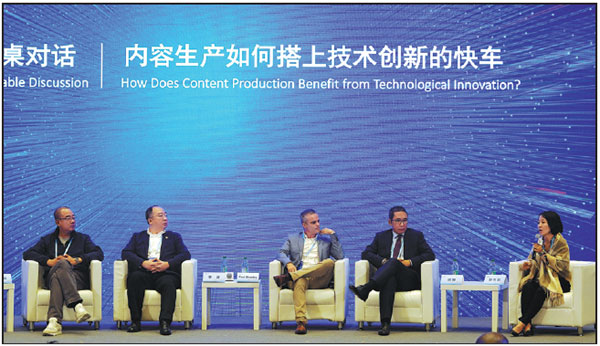 Guests discuss how content production benefits from technological innovation at a sub-forum at the sixth World Internet Conference in Wuzhen, Zhejiang province. (Photo source: China Daily/Gao Erqiang)
Li Baoshan, president of People's Daily, said that as an explorer, a practitioner and a beneficiary of the development of media convergence, the newspaper has made great achievements in recent years.
"We should seize the opportunities of informatization and use the fruits of the information revolution to accelerate the establishment of a media-communication pattern," Li said.
The capabilities to filter, assess and explain mass information require a professional vision, and this is an increasing challenge to the expertise of mainstream media, he said.
For news media outlets, content innovation should be a priority no matter how the modes of communication change, Li said.
"The mainstream media should adhere to the content and maintain competitiveness through the strength of their content," he said.
Ren Yuxin, chief operating officer of Tencent, said WeChat public accounts have become engines for Tencent's content development and are also test fields for the mainstream media to promote media convergence.
With the advent of 5G, technologies such as AI and augmented reality will lead to substantial changes in content production, generation and dissemination, Ren said.
"We are willing to cooperate with mainstream media to conduct frontier exploration under this new wave of science and technology," he said.
Zhu Guoxian, chief of publicity for Zhejiang province, said that in reality, the internet and mobile-communication platforms are essential to the development of media convergence.
The number of netizens in Zhejiang has surpassed 45 million, and 98 percent of them are mobile-devices users, Zhu said.
"We will prioritize the development of mobile technologies," he said.
The province will increase support of local mainstream media outlets to keep pace with the development of the internet, he added.
Organized by People's Daily, the forum attracted representatives and officials from global media outlets and organizations from countries and regions including the United States, France and Africa.
liangkaiyan@chinadaily.com.cn