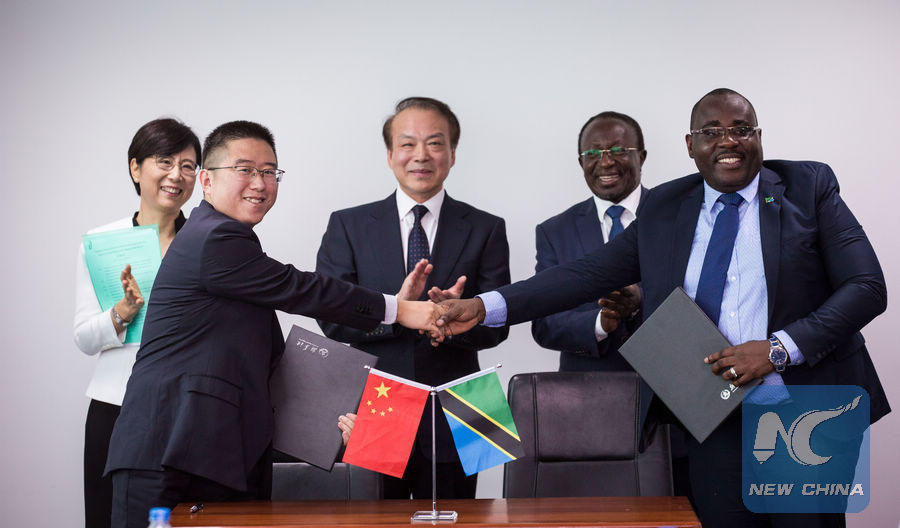 He Ping (3rd L), editor-in-chief of Xinhua News Agency, and Harrison Mwakyembe (2nd R), Tanzanian minister of information, culture, arts and sports, witnessed the signing of the MOU on media cooperation in Dar es Salaam, Tanzania, July 21, 2019. (Xinhua photo/Lyu Shuai)
DAR ES SALAAM, July 21 (Xinhua) -- Visiting Editor-in-Chief of Xinhua News Agency He Ping and Tanzania's Minister of Information, Culture, Arts and Sports Harrison Mwakyembe witnessed the signing of a Memorandum of Understanding (MOU) between Xinhua and Tanzania's Information Services Department after the two held talks here on Sunday.
Speaking at the signing ceremony, He said that Xinhua attaches great importance to the cooperation with Tanzanian media, adding that Xinhua looks forward to deepening China-Tanzania friendship by working together with Tanzanian media and elevating cooperation levels.
On his part, Mwakyembe said that China has always been Tanzania's true friend and good friend. The official said that the two countries have made multiple achievements by advancing Belt and Road cooperation, adding that Tanzania hopes to continue enhancing cooperation with China in the media sector.