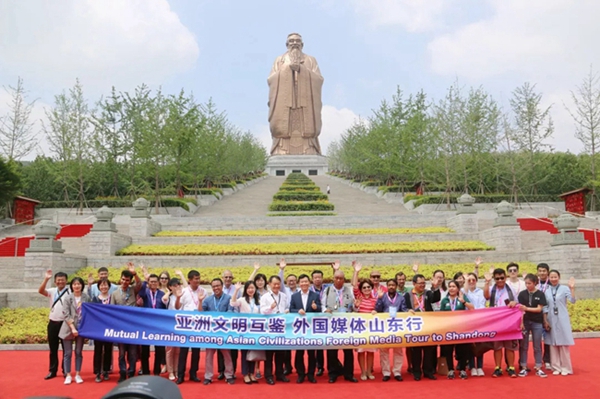 Foreign journalists pose for a group photo in front of the Confucius statue while touring the Nishan Holy Land in Qufu, Shandong province on May 17. (WeChat account: NiShanShengJing)
A group of journalists from 11 Asian and European countries attended the "Mutual Learning among Asian Civilizations" event in Qufu, the hometown of Confucius in Shandong province on May 16-17 to experience the profoundness and charm of Chinese traditional culture.
The event was part of the Conference on Dialogue of Asian Civilizations held in Beijing recently.
The reporters visited the Nishan Holy Land on May 17 in the Nishan Cultural Tourism Resort.
The resort is located in Nishan Mountain, which is traditionally regarded as the birthplace of Confucius, founder of Confucianism.
The reporters attended a series of cultural experience activities at the scenic spot, such as worshiping Confucius and transcribing Confucian classics.
Covering an area of 35.76 square kilometers, Nishan Holy Land is currently under construction. The complex was mentioned as part of Qufu's excellent traditional culture inheritance and development demonstration zone in China's 13th Five-Year Plan (2016-2020).
In the future, it will become a cultural experience base where one can learn about Chinese culture and Confucianism.