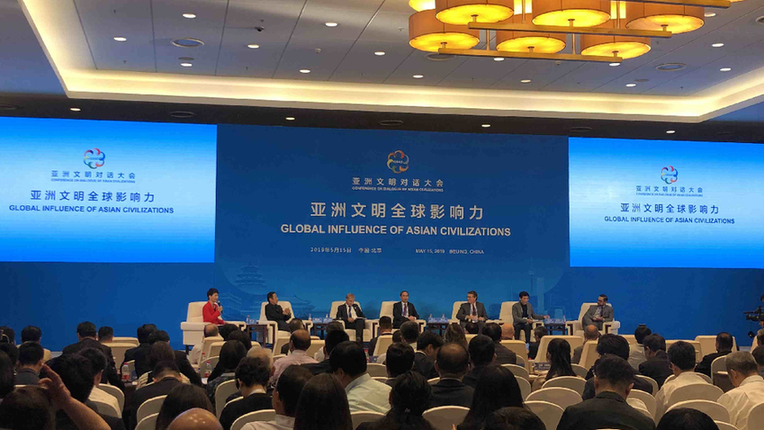 As one of the six parallel forums of the "Conference of Dialogue on Asian Civilizations," the Forum on Global Influence of Asian Civilizations, organized by the National Radio and Television Administration of the People's Republic of China, is being held at the China National Convention Center Beijing on Wednesday afternoon.
Fan Weiping, vice minister of the National Radio and Television Administration of the People's Republic of China, hosted the opening ceremony of the forum.
Nie Chenxi, deputy head of Publicity Department of CPC Committee delivered a keynote speech, and Cambodian Minister of Information Khieu Kanharith and other officials delivered speeches respectively.
With the theme of "Asian Values for the World," the forum invited government officials, well-known scholars, experts, media professionals and artists from Asia, Europe and the Americas as speakers, including Chen Daoming, Chinese film performing artist, Aamir Khan, Indian film actor and director. They explored the rich connotation and contemporary values of Asian civilizations and discussed the new missions of Asian civilizations in the era of globalization.
Jiang Heping, China Global Television Network (CGTN) controller also attended the forum and delivered a speech.
Jiang pointed out in his speech that as a communicator, facilitator, participant, and contributor to civilization, the media should fulfill the mission of removing two barriers. First, we should clear away the hurdles between the ancient and the modern. Then, we should eliminate the barrier of mistrust and misunderstanding that plagues the communications between countries and regions.
By upholding the principle of objective, impartial, and unbiased coverage of the facts, we can promote understanding among different groups, which is essential for the common development and peace of the world, Jiang added.
The forum aimed to consolidate cultural confidence, share the rich achievements of Asian civilizations with the world and promote exchanges and mutual learning among different civilizations. During the forum, several cooperation agreements are signed, and a batch of excellent TV co-production works that embody the Asian values be launched.
The forum is expected to have a profound influence on promoting the prosperity and development of Asian civilizations and facilitate the building of a community with a shared future for mankind.
A supporting activity, the "Dialogue on Asian Internet Audio-Visual Broadcasting Policy and Release of Cooperation Results," will be held alongside the forum on May 16.