‍Think tanks have played a significant role in the construction of the Belt and Road, said President Xi Jinping in a recent congratulatory letter to the Belt and Road Studies Network.
One of the sub-forums at the second Belt and Road Forum for International Cooperation looked at the role of the media and various think tanks in promoting the massive international project.
Over 300 delegates from more than 60 countries and regions attended the sidebar event. Among them: several former Chinese and foreign dignitaries. Leaders from well-known think tanks and media organizations were also on-hand, along with senior executives of major enterprises that have participated in BRI projects.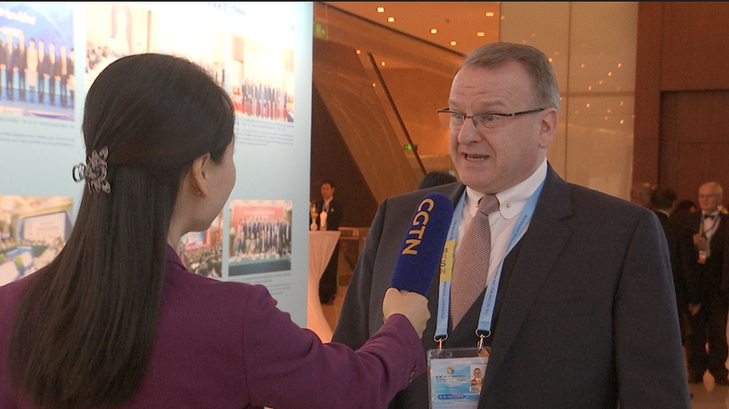 Dr. Thilo Ketterer, Germany's certified public auditor of Rodl & Partner, talks with CGTN. (Photo source: CGTN)
At the opening ceremony, Huang Kunming, head of the CPC Central Committee's Publicity Department, delivered a keynote speech. He fully acknowledged the important contributions think tanks and media play in researching and reporting on the BRI, and the joint pursuit of the initiative since the first Belt and Road Forum for International Cooperation.
"I think, first of all, the Belt and Road have reached a point where it now needs more detailed research work and policy work across the world. What's needed is more policy and more intellectual activities about the initiative and relevant projects," said Huang.
"Think tanks like to think, and they analyzed, they researched, and one must always try to see what's coming down the line. Doesn't mean you have to do everything, doesn't mean you have to agree with them, but I think it really opens minds up to the world," said Shaukat Aziz, former prime minister of Pakistan, who also attended the forum and delivered a speech.