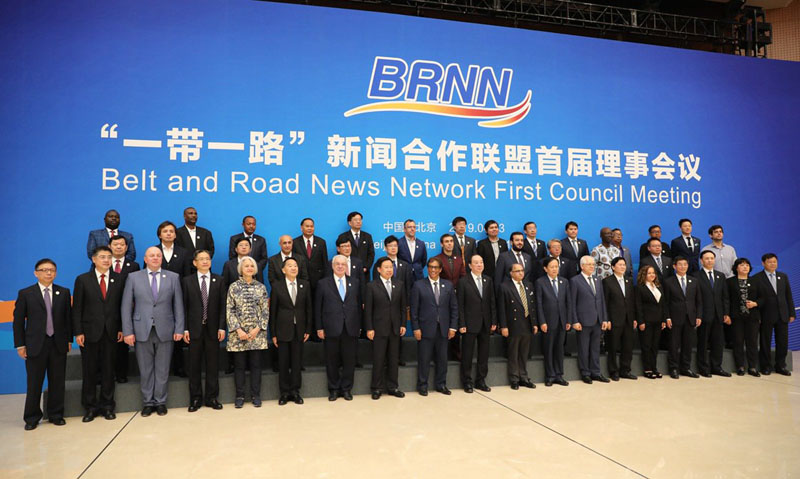 Media leaders take a group photo at the Belt and Road News Network (BRNN) First Council Meeting (Photo source: People's Daily Online/Xian Jiangnan)
Beijing, April 24 (People's Daily Online) -- On April 23, the Belt and Road News Network (BRNN) First Council Meeting kicked off in Beijing. Media leaders from China and abroad spoke highly of the BRNN, noting that the platform is a highly relevant one, which is anticipated to raise the cooperation among international media outlets to a higher level.
Teaming up for closer ties
As BRNN held its first Council Meeting, President Xi Jinping sent a congratulatory letter, praising the constructive role that media plays in BRI development and hoping Council members forge closer ties in communication and cooperation.
Iqbal Survé, Executive Chairman of South Africa's Independent Media applauded efforts made by People's Daily for hosting the inaugural meeting of the BRNN Council, which he said was a very important step towards cooperation among various media organization, supporting the people-to-people exchanges in various countries, particularly media cooperation.
"We work in each country, and we don't communicate a lot. Here we can be together for communication. I'm watching to know what my friends are doing in their countries and what we can do together," Fabian Frydman, Deputy General Director of Frence newspaper La Provence, told People's Daily Online.
Sarmad Ali, President of Pakistan's Jang Media Group and GEO Television Network said the founding of BRNN was "long overdue". "It's about time for the media of the BRI countries to come together to communicate with each other and then we will be able to build our connectivity," he added.