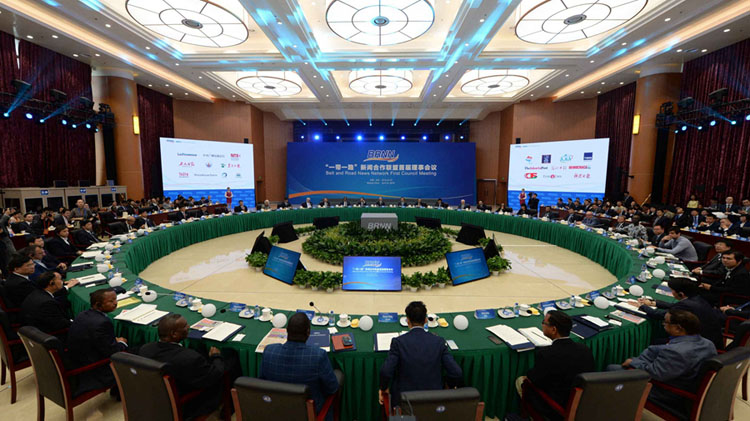 The Belt and Road News Network (BRNN) First Council Meeting (Photo source: People's Daily Online)
The Belt and Road News Network (BRNN) First Council Meeting and its supporting activities kicked off in Beijing on April 23, before the 2nd Belt and Road Forum for International Cooperation (BRF) begins later this week.
After the first session of the BRNN council, delegates from foreign council members of the BRNN will attend the opening ceremony of the 2nd BRF, and carry out investigations and interviews in Beijing.
The BRNN is designed to serve as a platform for information sharing, exchanges and cooperation, news distribution, and copyright trading among media outlets along the BRI.
The BRNN has also launched an official website and a mobile news information aggregation and distribution platform to provide services such as content uploading and sharing for BRNN members.
Moreover, the BRNN will also support media organizations to exchange page layout, channels and time frame between one another, to assist BRNN members with everything from the development of new forms of business and new technologies to jointly coping with the challenge of media transformation.
Proposed by Chinese President Xi Jinping in May 2017 at the first BRF, and later initiated by People's Daily, the BRNN has gained a positive response from domestic and overseas media.
With concerted efforts of relevant parties over the past two years, the BRNN has so far welcomed 182 members from 86 countries, with 40 mainstream media outlets becoming council members upon invitation.
Aiming at promoting media cooperation to further facilitate the joint construction of the Belt and Road Initiative (BRI) proposed in 2013 by President Xi, the BRNN is expected to help broaden international cooperation under the BRI and serve as a new platform for people-to-people and cultural exchanges.
There should be a mechanism to facilitate media cooperation and lay a solid foundation for broader cooperation in the future, said former Pakistani reporter in China, Javed Akhtar. He explained that Pakistani media hope to establish a long-term steady mechanism for news cooperation with People's Daily, to better tell stories and spread BRI news.
Fernando Garea, president of Spain's leading news agency Agencia EFE, said that it is a good idea and that they are very interested in the establishment and construction of the BRNN.
Nicolau Santos, president of Portugal's largest news agency Agência Lusa, expressed his opinion on the BRNN from the perspective of media transformation, saying that the agency is willing to take part in the BRNN mechanism in specific ways, and will scale and jointly tackle the challenges media is confronted with due to advancements in technologies.
Efforts to facilitate media cooperation to boost the BRI and strengthen the friendship and communication among the countries along BRI routes were actually inaugurated long before now. Since 2014, People's Daily has hosted five successful sessions of the Media Cooperation Forum on Belt and Road in a row, providing foreign media with an important window into China.
The forum aims to expand the BRI's "circle of friends" as well as boost connectivity among the markets and people along the BRI. For these reasons, it's received widespread attention from the international community.
Over the past five years, the Media Cooperation Forum on Belt and Road has generated remarkable results, witnessing joint declarations of media cooperation and memorandums of understanding (MoU) on bilateral cooperation.
The Media Cooperation Forum on Belt and Road serves as a platform for holding dialogues and exploring new ways for cooperation among international media outlets while also acting as a bridge between different cultures, said Pavel Negoitsa, the director general of Russia's state-run newspaper Rossiyskaya Gazeta.
The BRNN is an upgraded version of the Media Cooperation Forum on Belt and Road, said Iqbal Survé, executive chairman of South Africa's Independent Media, disclosing that he looks forward to the prospects of the BRNN.
The establishment of the BRNN has demonstrated China's steadfast determination to safeguard economic globalization, said Survé. He continued that he hopes the BRNN council will hold meetings regularly, formulate timely cooperation plans for BRNN members, and set targeted agenda to study any problems in the construction of the BRI and eventually integrate the BRNN into a big picture of BRI construction.