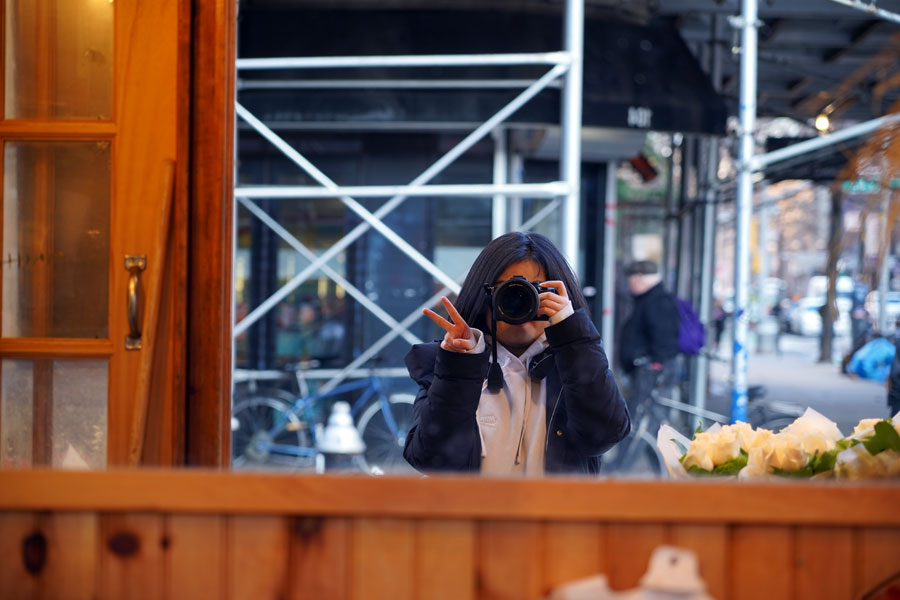 The writer takes a picture outside a florist shop in Manhattan, New York City, US. (Photo source: chinadaily.com.cn/Zhang Yue)
My New York City memories were stirred up by a sudden question from a colleague here in Beijing.
"How many wishes for 2020 have you fulfilled so far?"
"Zero," I replied. "The chance to fulfill them was taken away."
I can clearly remember that I had carefully written my wishes for my 2020 New York City life on little pink pieces of paper, a kind of wish confetti, after I had interviewed many excited people from different countries who had written theirs for posting on the Wishing Wall in the heart of Times Square on the brink of 2020. I was still a foreign reporter in the US at the time.
I hadn't considered writing down my own wishes until I was moved by my interviewees' hopes for the coming next year and the new decade. Their excitement when talking about their wishes was part of the city's traditional New Year celebration. After all, I was gathering information for a story.
I thought it would be beautiful to add my wishes for my 2020 New York City life to dance in the sky with a multitude of other confetti hopes floating down at midnight onto the revelers gathered in Times Square for the world-famous count down, so I wrote them out on small pink slips.
But I never thought that they wouldn't reach the pavement and would instead "fly away" in just two months.
The chance to realize these wishes was taken away by the US government's announcement on March 6 that the number of Chinese nationals working at five Chinese media outlets in the US would be reduced from 160 to 100.
Unfortunately, I was one of the 60.
Memories of that heartbreaking moment, when I first heard the news and began to digest the reality, came flooding back to me, and I nearly blamed my colleague in Beijing for having asked a question that forced me to relive this nightmare. I tried to stop myself from recalling any further details, including the hard journey back to Beijing that followed.
However, emotions can't be locked away in your mind. I experienced all over again the shock, sadness, anger, anxiety and disappointment I felt at that time.
I imagine any journalist who had gone through something similar would react much like me, even if it had happened months before.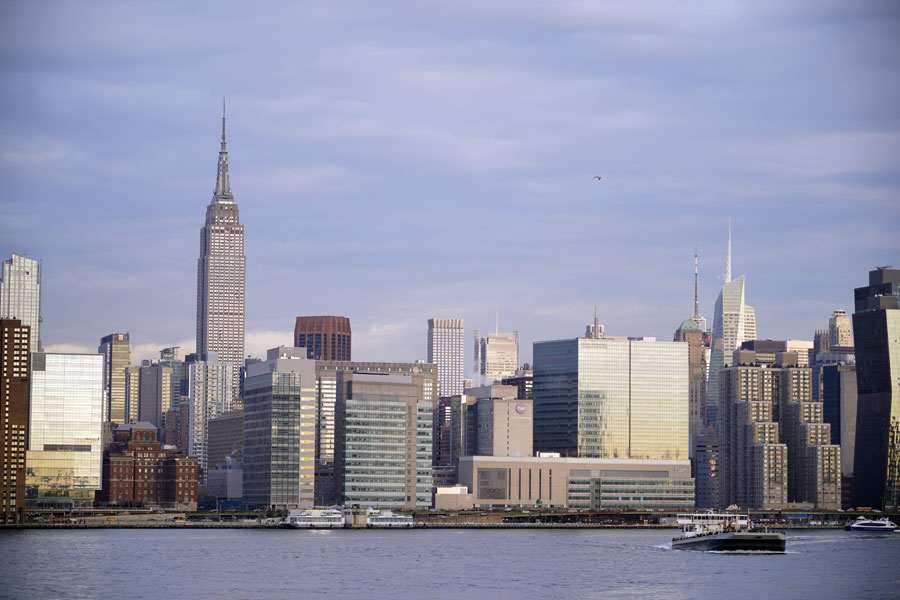 The Manhattan skyline is seen from Brooklyn borough in New York City, US. (Photo source: chinadaily.com.cn/Zhang Yue)
I had dreamed of seeing New York City ever since high school, when I watched the movie Sex and the City, about four women there, trying to find themselves as well as love. The show encouraged me to be braver and more independent, and to work harder.
Even now the melody and lyrics of the song It's Amazing in the movie — "It's amazing, it's amazing all that you can do. It's amazing, it makes my heart sing. Now it's up to you" — come to mind whenever I get stuck.
After I arrived in New York, I tried my best to fit in the place, which at first seemed totally bizarre. Then, naturally, I fell in love with the city. Later I even felt nostalgic about it when I thought I had to leave after just two years, never realizing my departure would come much sooner than that.
But my mixed and miserable emotions are not just the result of personal loss.
It was not just my individual departure that hurt. The pain was also about a group of people whose job is to explain differences and promote communication between countries.
In my short foreign assignment, I had the opportunity to cover the China and the United States Outstanding Chinese Awards Ceremony. The event was held on the 40th anniversary of the establishment of diplomatic relations between China and the United States. "We hope the awards ceremony will bring more outstanding achievements and development in the next four decades and boost China-US trade volume, which will benefit the people of our two nations," said Charles Wang, vice-president of the awards panel and adviser to the US Labor Department. "This is the picture that we want to see."
I had covered the LuminoCity Festival, a 16-acre light exhibition featuring Chinese lanterns. It dazzled visitors with its "Let It Glow Christmas" show at Randall's Island Park in New York. The show was wholly designed by a Chinese student studying in the US and all lanterns were crafted by artisans from Zigong city in Southwest China's Sichuan province. They made the lanterns in Zigong and shipped them to New York.
Huang Ping, China's consul general in New York, encouraged the designer and young people like her to use their imaginations to combine Chinese traditional culture and folk art with local residents' customs and preferences to bring joy to locals. Huang said it was a way to teach them about Chinese culture and enhance people-to-people exchanges.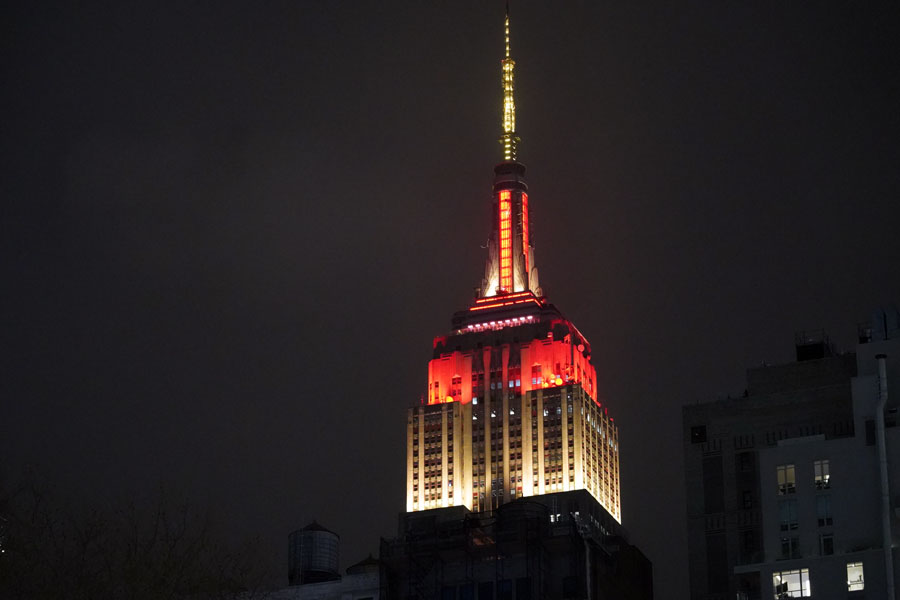 The Empire State Building is illuminated in red in Manhattan, New York City, US. (Photo source: chinadaily.com.cn/Zhang Yue)
I was once lucky enough to take part in the preparations for a China Daily Vision China event in New York titled China-US Relations: 40 Years & Beyond. I had been aware of the signing of the phase-one trade deal between China and the US through a longtime China Daily journalist's report from the East Room of the White House in Washington DC.
We journalists were a team to connect the world, to help different groups on the planet at least start to know each other. But in this case we met difficulties. Sixty Chinese journalists were expelled from the US. The remaining Chinese reporters in the US are currently under certain restrictions.
The situation reminds me of a wish made by a senior woman I interviewed that day in Times Square -- one much harder to realize in today's context.
"My wish was for people to be more tolerant and accepting of each other and I hope for a much better world," she said with a kind smile and steadiness in her eyes.
Being more tolerant and accepting should come after people communicate and get to know each other. This is especially true for the situation of China and the US, which are like two totally different people with deep-rooted mindsets.
Journalists have been doing their job over the past 40 years to help the two "strangers" with distinctive personalities connect, communicate and understand each other, until they become friends.
Those outcomes can't be achieved unless governments intend to connect with each other with respect and trust.
The large number of journalists expelled by the current US administration makes it harder for those outcomes to be reached and lessens journalists' ability to play their role of promoting connections in international society.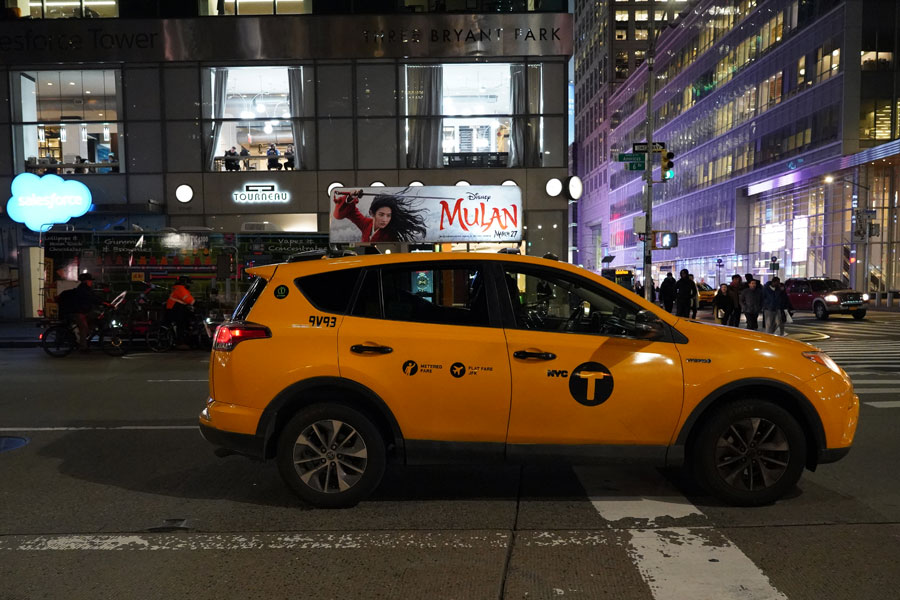 A taxi passes by near Bryant Park in Manhattan, New York City, US. (Photo source: chinadaily.com.cn/Zhang Yue)
On my last day in the city, when I strolled through the hustle and bustle of Manhattan, the memories of hopes for my time in New York City and my unfulfilled paper confetti wishes for 2020 caused me great regret and sadness.
At a special moment on that day, a familiar-looking woman walked past me and I suddenly realized that she was Cynthia Nixon, the actress who played Miranda Hobbes, the lawyer among the four women in Sex and the City. I ran up to her and asked, to make sure I wasn't wrong. Meeting and talking with her left me feeling inspired once again.
I thought of this as a farewell gift from the city and, as I continued to stroll down the road, I was singing It's Amazing again: "Show patience now, frustration's in the air...Get back on your feet and you'll be stronger and smarter." (By Zhang Yue)