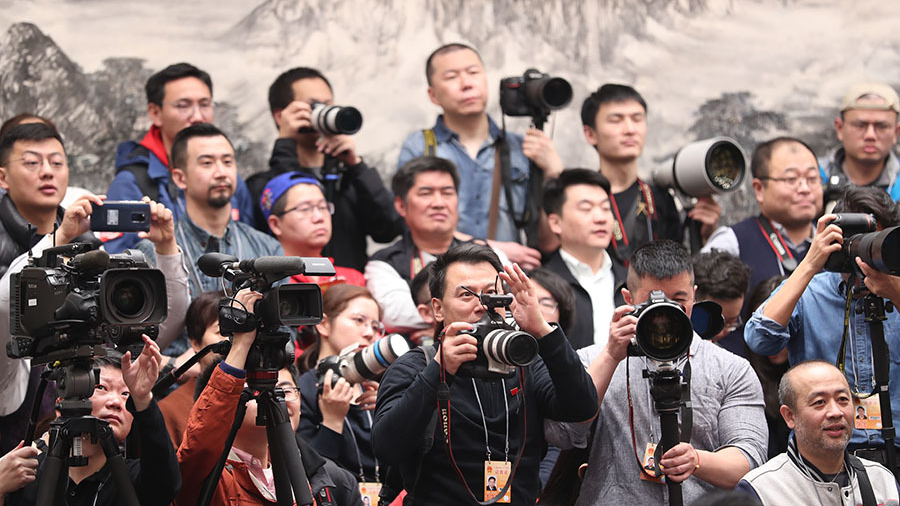 (Xinhua photo)
It has been four months since I got back to China from the U.S. after having lived there for three months. During these past months, the COVID-19 pandemic has been sweeping across the U.S. and the Black Lives Matter movement has polarized the whole country. At the same time, dispute and confrontation between China and the U.S. have become an everyday occurrence. An increasing number of Chinese journalists in the U.S. haven't been able to renew their visas and might have to return to China. The direction in which U.S.-China relations go will greatly affect the future of the entire world. As someone involved in these changing times, being one of the 60 Chinese journalists who were expelled from the U.S., my personal destiny has been intricately connected with these two countries. Encouraged by my friends and colleagues, I decided to write down my story. This world is full of misunderstandings and in the midst of all this, I would like to express love.
At the beginning of March, spring was on its way to D.C. In two to three weeks, the city center would welcome big cherry blossoms. However, I wasn't able to stay long enough to see that happen.
On my second day back in D.C. after visiting South Carolina, I was on my way to the office. We had filmed a lot of good interviews during that trip. My coworkers and I visited a campaign rally for President Trump and the election offices of Joe Biden and Bernie Sanders. We had deep conversations with the supporters of presidential candidates from both parties. We even carved out some time to visit Charleston as well as the Boone Hall Plantation and Gardens to get a better understanding of the past and present of African Americans.
On that Tuesday morning in D.C., I realized that new shoots had quietly sprouted from the treetops along the street. My thoughts had become more vibrant in the spring weather. I was thinking deeply about our reporting plan for the U.S. presidential election and the ideas were gradually becoming clearer until suddenly, a hasty text message interrupted me. It was a link to a news report sent to me by my coworker. I felt chills just reading the title: U.S. Orders Cap on Chinese State Media Personnel. After reading the whole article, our reporting plan crumbled into pieces as did my plans to continue working in the U.S. That cap meant that we would be expelled from the country.
In that moment I was lost. Refusing to accept what would surely happen, I went to office and began preparing the reporting material for the next week, even though I knew I would no longer have the chance to do that report. I quickly scribbled down "Super Tuesday, focus first on Mike Bloomberg's big gamble. Then go to San Francisco for some field interviews, as it has been the most affected area of COVID-19…"
My coworker, who is also a very close friend, came up behind me and patted me on the shoulder. Her worried voice floated into my ears: "Tanli, you should stop doing that. It's time to think about how we are gonna get back to China."
I looked up from my work, and my eyes were drawn to a box lying on my table. After opening it, I found my brand-new business cards prepared by our company's administrative department. There were at least a few hundred of them with my name and my title, CGTN America Reporter, on them. I had been waiting anxiously for them for a while. A short time before that, I had met a lot of people who I wanted to give my cards to and stay in touch with. However, now that the cards were finally ready to go, they had no more use. I picked one of them up and slid it carefully into my wallet. The rest of them would be going into the shredder.
It was quite clear that my work and my life as a Chinese reporter in the U.S. was over, and there was no other reason to stay in the country.
I had just recently been thinking about the goals I'd had before coming to the U.S.: meet Americans from all different industries and talk with them to learn about their culture, their customs and their thoughts. This would allow me to help the Chinese people have a more objective and comprehensive idea about the U.S. At the same time, through my contact with Americans, I would be able to share with them what I know about my own country. In this way, I hoped to reduce the misunderstandings between these two countries, which have such different historical backgrounds and ideologies. Through my work, I wanted to help them sympathize with one another's culture.
Led by these goals, I dedicated all my time in the U.S. to covering the impeachment of President Trump, the signing of the U.S.-China phase one trade deal, the Chinese Spring Festival in the U.S., the presidential election and the pandemic. With news stories breaking one after another, I was in Virginia one week, Nevada the next, and then Massachusetts a few days later. The life of frequent flying was exhilarating. In an environment where China-U.S. relations are facing major challenges, in a sense, our work had a direct impact on each country's perception of the other. That gave me huge motivation.
Coming to the U.S. was actually a new start for me in my work as a correspondent. I worked in Africa and Latin America for a total of seven years in this profession. I have a great passion for it and consider it a highly meaningful job. I think it can assist people from different cultural backgrounds to know and understand each other, and in the end, contribute to a more harmonious world. This is by no means a utopian idea. However, my extensive work experience has showed me that no matter how different the living environments are and no matter how different people's languages are, as long as you open your heart with a tolerant attitude, differences can be worked out, misunderstandings can be reduced, and a more appropriate mindset can be established.
So, as a Chinese journalist who was expelled from the U.S., it was not anger that I felt, but instead pity. The more challenges the U.S.-China relations face, the more tense diplomacy becomes, and the more imperative it is to keep the free exchange of people, trade and communication between the two countries. The relationship between the U.S. and Chinese governments does not entirely reflect the relationship between the average citizens of these countries, which are still positive in general.
From my work experience in the U.S., I witnessed the kindness of my American colleagues and the local people. I have to admit that I used to hold the erroneous stereotype that many Americans were somewhat arrogant. However, after working, living and being in close contact with Americans, most of the people I met were polite, friendly and helpful. I remember that when I was preparing to cover one of President Trump's rallies, many people told me to be careful. They were worried that with a Chinese face, I would be harassed and bullied as these supporters are always labeled as discriminatory. However, as I held my mic, introducing myself as a Chinese reporter who wanted to talk with them, they answered me good-heartedly: "Sure, you can ask about whatever you'd like." All my interviews that day started in this friendly way. Then, they shared with me about their professions, their lives and their opinions about their country. They were not aggressive or offensive.
I also had a lot of American friends who liked to question me about some delicate issues regarding China, such as Hong Kong, Tibet, Taiwan and the South China Sea. Some of the questions were very sharp and even offended me a little bit as a Chinese person. But I didn't think this was a bad thing, because this meant that they were curious to learn about these issues beyond just what the Western media said. They desired to hear another voice from a Chinese perspective. Sometimes, it led to debates about Chinese policies and laws as well as the way China is developing. If we weren't able to convince each other, we would go back and find more information and continue the debate another day. This pushed us to learn more about each other and our respective countries and cultures.
I believe in more healthy interaction and less confrontation. When I was in the U.S., I felt that many Americans agreed with me on this, which deeply encouraged me. It may only influence the increasingly tense diplomatic relations a little bit, but as long as we were there, we could at least open the door for communication. We believed that we were on the right path, but suddenly, this door was shut.
Because we were asked to leave on such a short notice, everything had to be done in a rush. Under huge political and logistical pressures, my Chinese colleagues and I wrapped up our work, packed our bags and canceled our apartment leases. At the beginning of this year, my mother brought my then 7-month-old child, who had stayed behind with her for several weeks, to the U.S. with her. My expulsion from the U.S. happened just when my family life was getting on track. My mother felt very sorry that my career had been put on hold, but the worst thing was yet to come.
This all happened in the middle of March at the beginning of the COVID-19 lockdowns, so our trip back to China was very complicated. There was only one flight left from D.C. to Beijing, and it involved a stopover in New York City, the most heavily-affected city at that time. We would then land temporarily in Tianjin, where we would undergo COVID-19 tests. Then we would fly to Beijing, the final destination. The whole trip would last about 30 to 40 hours. My mother and I were able to handle it, but what about my little child? This was definitely too much for him. The most difficult thing was trying to protect him from infection on this long journey. He was less than one year old at that time, so a mask would suffocate him. A children's protection hat that was popular in China was not available for sale in the U.S., and so my mother made a protective cover for him, but he kept ripping it off his head. On the morning of our flight, I woke up crying. I felt desperate as a mom that could not protect her son.
In the end, we arrived in Tianjin and had to be quarantined there. Our flight had four confirmed cases, but luckily, we had not been infected due to the preventive measures the passengers had taken.
One day, some time after our quarantine, we took our child to the doctor for his one-year health check-up. Throughout all of these twists and turns, his growth had been affected a little bit, which led me to blame myself for a long time after that.
Should I blame the U.S. for all of this? Should I tell my child to hate the U.S.? If it had not been for the policy of expelling Chinese journalists, our family would not have gone through all of this. But the answer to these questions is "No". The U.S. government's policies do not reflect the thoughts of U.S. citizens, and the American people are a very large and diverse group.
I remembered being at the office, saying goodbye to our American coworkers. Some of them had their heads in their hands, in disbelief; others tried to get us to stay at the office for longer to talk; and some had tears in their eyes. Our Chinese director told us that he had received letters from higher-ups in the company telling him that the company could not do without its Chinese staff. My real-state agent, the receptionists and security guards at my apartment complex, the Costco staff member who helped cancel my membership, and my bank manager all felt shocked and confused when they heard what had happened to us. They kept repeating to me that this should not be happening and it didn't represent all Americans. This expression of kindness comforted me a lot. Expelling journalists was the policy of the U.S., but it didn't represent the will of the whole country.
When my child grows up, if he likes American music and movies, I will not stop him, and I will not stop him from learning English or pursuing his education in the U.S. The relationship between these two countries is not only decided at the state level, it is also dependent on individuals having an open mind and the willingness to help maintain positive ties. Anyone can do this, and people who are committed to this should be welcome in all countries.(Yang Tanli)