Editors Note: Stephen Ndegwa is a Nairobi-based communications consultant and international affairs columnist. The article reflects the author's views, and not necessarily those of CGTN.
The emergence of the COVID-19 pandemic early this year has escalated the nagging issue of fake news, and other challenges facing the media globally. While disinformation, misinformation, and outright lies have been with us for several years, their disastrous effects have never been more widely felt.
As the world celebrates World Press Freedom Day (WPFD) this Sunday, journalists and audiences alike are unsure what to believe any more. This year's WPFD theme is, "Journalism Without Fear or Favour," which highlights the currently muddled political and ideological dispensation that journalists operate in.
According to the United Nations Educational, Scientific and Cultural Organization (UNESCO), "May 3 acts as a reminder to governments of the need to respect their commitment to press freedom, and is also a day of reflection among media professionals about issues of press freedom and professional ethics."
A UNESCO report released on Wednesday in the run-up to the WPFD says COVID-19 has brought extra challenges to journalism, at a time when the world needs journalism most. "In the context of the unprecedented public health crisis caused by the COVID-19 pandemic, access to verified and accurate information, produced by independent media and fact-checkers, can mean a matter of life and death."
In an analysis of the impact coronavirus has had on journalism, UNICEF points to what it calls a dangerous 'disinfodemic' that fuels the pandemic, consisting of an onslaught of misinformation and disinformation that has spread as fast as the virus itself.
The search for verified information has become an overwhelming exercise, as internet companies try to respond to the authenticity of a myriad of misleading posts. In addition, many journalists have been caught up by restrictions of movement due to curfew or lockdown measures, greatly hampering access to firsthand information at critical times.
The following two case studies give a clear example of what is currently happening to the media.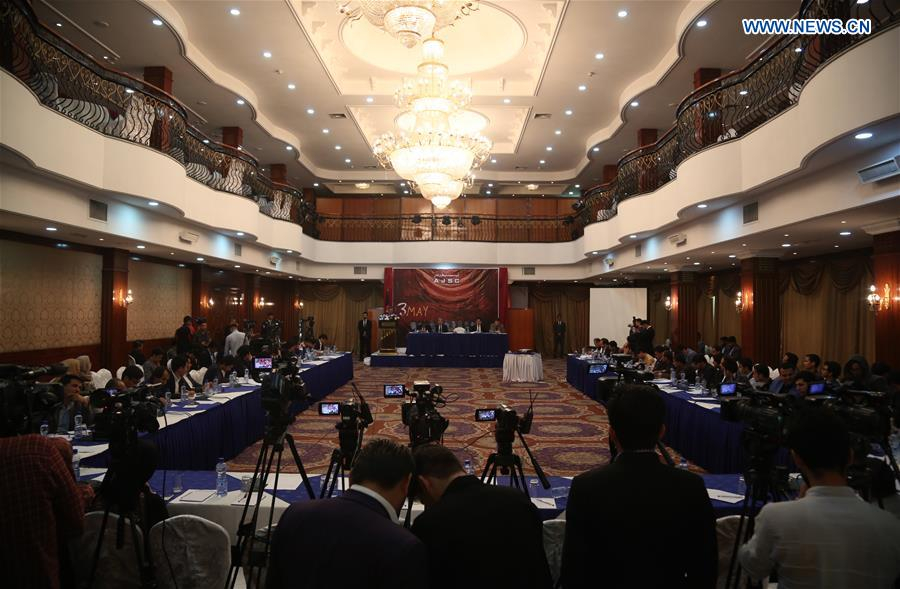 A ceremony observing World Press Freedom Day is held in Kabul, capital of Afghanistan, May 3, 2018. (Xinhua photo)
First, U.S. President Donald Trump, who is fond of branding much of American media houses' coverage as fake news, on April 23 caused an uproar when he suggested that a disinfectant injection inside the body, and ultraviolet light, could help fight the coronavirus.
His remarks, made during a White House briefing, immediately trended on social media, causing indignation, particularly within medical and health circles worldwide. While such comments by a globally influential personality are totally untrue, the top social media sites have declined to pull them down in line with their stated policy against misleading information.
In March, Facebook chief executive Mark Zuckerberg had warned that promoting bleach as a cure for COVID-19 was "misinformation that has imminent risk of danger," promising that such messages would be removed immediately from the social network. But this has, unfortunately, not happened.
The New York Times alluded to the foregoing in an opinion on Thursday titled, "Trump's Disinfectant Talk Trips Up Sites' Vows Against Misinformation," by observing that Facebook, Twitter and YouTube have declined to remove the president's ridiculous claims on the treatment of coronavirus.
Second, on April 21, Africanews reported that Tanzanian authorities had the previous day suspended journalist Talib Ussi Hamad of the controversial Tanzania Daima newspaper for six months for his unsatisfactory reporting on COVID-19.
The Tanzania government has been on the spot lately, after the country's COVID-19 cases shot up above those of its neighbors, including the number of deaths from the pandemic.
The authorities have also banned broadcasting of the coronavirus situation, and gagged health offices from discussing matters on the pandemic without express permission from the presidency.
Earlier, the government had suspended the license of Mwananchi daily, and fined the newspaper about 1,760 pounds, for posting a photo of President John Magufuli shopping in a crowd of people amid the threat posed by COVID-19.
While this blackout is ostensibly meant to avoid panic, media experts observe that the government could be shifting blame for its poor management of the pandemic.
Moreover, according to Africanews, these moves by the government of the largest East Africa country were "the latest in a string of attacks on the right to freedom of expression, access to information and media freedom during the pandemic."
Basically, traditional media has lost substantial clout to digital media. Due to their flexibility and largely unregulated modus operandi, social media sites are always first with the news, both substantiated and unsubstantiated. It is a trap that mainstream media is falling into, as it plays catch-up with the ubiquitous digital platforms.
But having said that, the press should not expect carte blanche to publish anything they deem fit. Indeed, there is a sufficient case for regulations that filter the kind of messages people receive from the media, which has often been blamed for several global social and human catastrophes emanating from hate speech and thinly veiled incitement.
Going forward, the biggest challenge for governments worldwide is ensuring that social media does not act as a catalyst for igniting and fanning various forms of national or international crisis. Issues of national security and diplomacy, for instance, will always have an impact on how news is gathered and disseminated.(Stephen Ndegwa)