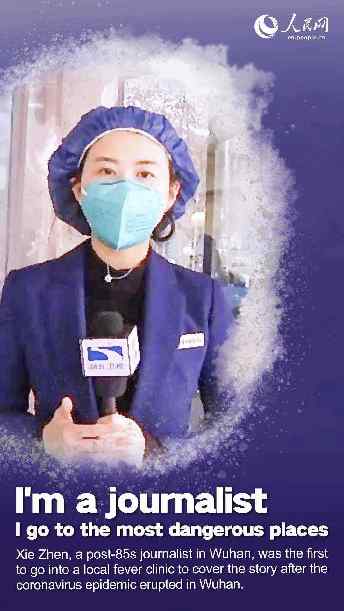 "There's power in allowing yourself to be known and heard, in owning your unique story, in using your authentic voice. And there's grace in being willing to know and hear others. This, for me, is how we become."
― Michelle Obama, Becoming
As a journalist in Wuhan, capital of Hubei province, Xie Zhen realized that her job would become a crucial one when the epidemic first erupted there at the end of 2019.
In late December, cases of "pneumonia of unknown cause" appeared one after the other in multiple hospitals. Sensitive to public concerns, the post-85s journalist immediately contacted the Wuhan municipal health commission for detailed information and reported the news. From then on, bringing information on the latest progress of the outbreak became her daily priority.
In the days that followed, massive amounts of information about the epidemic emerged. In order to process all this important information at the earliest possible time, Xie even stayed in the office all night for several days in a row, wrapped in a down jacket and clutching a hot-water bottle to keep warm.
One day in mid-January, Xie received a message from the local health authority: Wuhan had announced a list of 61 designated fever clinics and the first batch of nine hospitals designated to treat novel coronavirus patients. She suddenly realised that the situation in Wuhan had become critical.
Her incredible sense of commitment prompted her to put in a request to go to the designated hospitals and carry out interviews. "I am a journalist familiar with the field of medical health. I will go to the most dangerous places," she said, despite the fact that she hadn't recovered from a cold yet due to her heavy workload.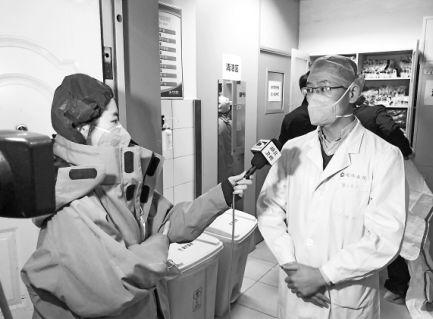 Xie Zhen reports at a fever clinic in Wuhan, the epicenter of the coronavirus outbreak.
Illness didn't scare off Xie, who became the first to go into a local fever clinic to cover the story after the coronavirus outbreak in Wuhan. When she entered the hospital, she was shocked to see the hall packed with patients, with many queuing up in long lines outside the gate. With no time be afraid, Xie and her colleagues conducted interviews and filmed for more than three hours. Worryingly, the only protective gear she and her colleagues had was masks.
As she had been busy at work for over a month, Xie was unable to have Chinese New Year reunion dinner with her family, who live hundreds of miles away in eastern China's Jiangxi province. Whenever her parents called, Xie told them she was editing at the TV station. The truth would have only worried them.
Just as Xie and her colleagues threw themselves into covering the epidemic, her health broke down. For several days, her body temperature soared above 38.5 degrees Celsius. She then developed a cough, back pain and other symptoms – she was diagnosed as a highly suspected COVID-19 patient.
Within days, she underwent a transition from interviewing patients to becoming a suspected patient herself.
But this didn't deter Xie from doing her job. "I'm not afraid of the virus, but I'm afraid of not being able to fight on the front line anymore. I have to recover soon and go back to work."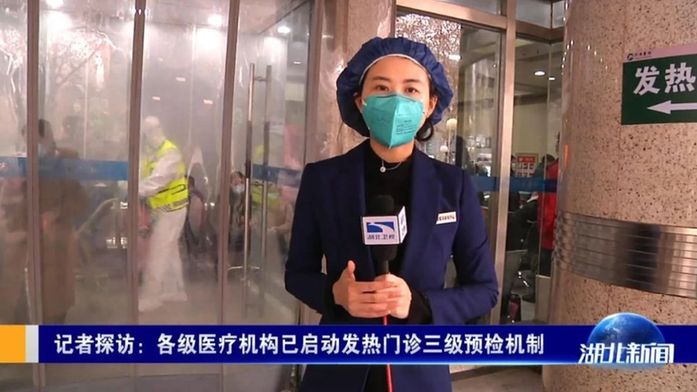 Xie Zhen reports at a fever clinic in Wuhan, the epicenter of the coronavirus outbreak.
While Xie was being treated in isolation, she became a media liaison for the local health commission and hospitals, providing her colleagues important news sources.
Xie is one of thousands of journalists from all over the country reporting on this outbreak. Although they are not medics directly engaged in treating patients, they also have to wear protective gear and goggles and go deep into the isolation wards in order to bring first-hand news from the epicenter of the epidemic to the outside world.
"As a journalist living in Wuhan, I'm not only reporting news, but documenting lives," Xie said, adding that she felt duty-bound to reach deeper into communities and grass-roots hospitals to give objective and truthful coverage in a time of crisis, as tens of thousands of local people were being killed or sickened by the deadly virus.
"We [journalists] have a responsibility to use the power of media to show the world the choices, sacrifices, commitment and efforts made by the city, as well as the spirit of its people," Xie said.
Winter will eventually pass, and spring is sure to come. After her recovery in March, Xie immediately returned to the front line. Her first story was about the sight of cherry blossoms in this resurgent city. (By Xian Jiangnan)