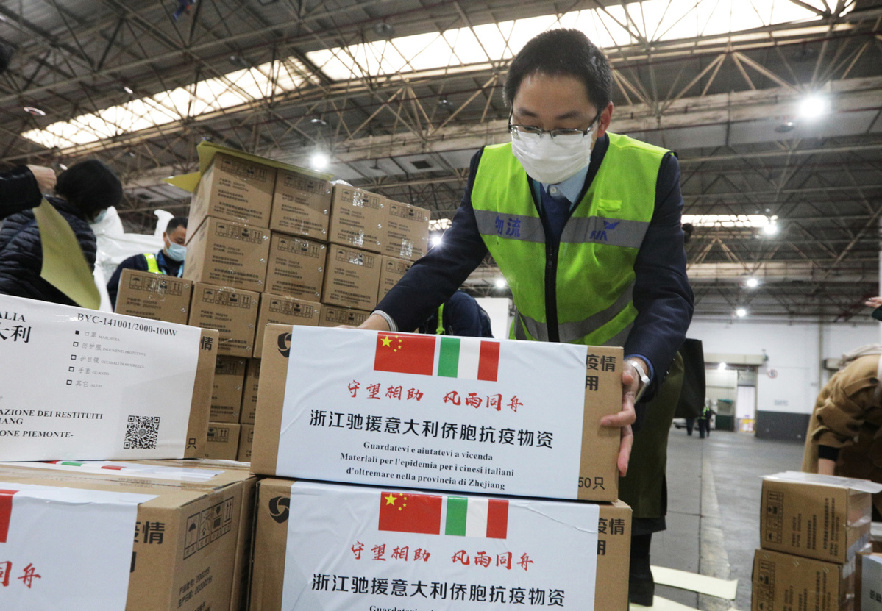 A worker loads disaster-relief materials bound for Italy at Hangzhou Xiaoshan International Airport in Zhejiang province on Wednesday. The materials were donated by people from throughout the province. (Photo source: CHINA DAILY/WANG JIANLONG)
Since the outbreak of the novel coronavirus, China has tried its best to deliver help to other countries severely affected by the pandemic. During its cooperation with the international community on preventing and controlling the epidemic, the country has displayed a strong sense of responsibility to build a community with a shared future for mankind.
China's great efforts in helping other countries have been highly praised by many countries across the world.
Let's take a look at what overseas media said.
China sends medical supplies, experts to help Italy battle coronavirus - Reuters
A plane full of medical supplies, including masks and respirators, has arrived in Italy from China to help it deal with its growing coronavirus crisis.
A team of nine Chinese medical staff arrived late on March 12 with some 30 tons of equipment on a flight organized by the Chinese Red Cross.
"In this moment of great stress, of great difficulty, we are relieved to have this arrival of supplies," said the head of the Italian Red Cross, Francesco Rocca.
"We have a desperate need for these masks right now. We need respirators that the Red Cross will donate to the government. This is for sure a really important donation for our country," Rocca added.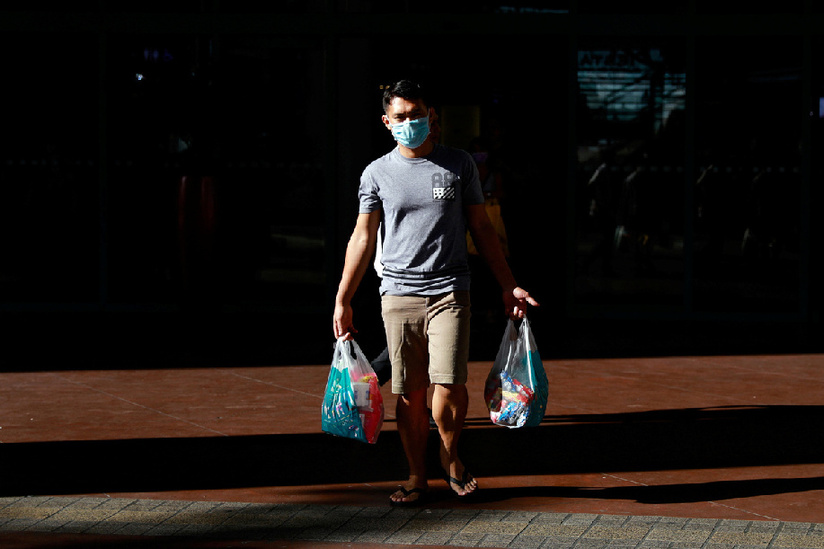 A man wearing a protective face mask carries bags of groceries outside a supermarket amid new cases of coronavirus, in Manila, Philippines, March 11, 2020. (Photo source: Agencies)
China gives helping hand to ASEAN nations to fight coronavirus – The Star
Since the outbreak, China has taken comprehensive, strict and thorough prevention and control measures and worked hand-in-hand with other countries to combat the disease in a responsible way.
In an all-out effort to combat COVID-19, China is more than willing to help smaller nations, especially those in ASEAN.
China shared the whole genome sequence of the virus with the World Health Organization and the global community at an early stage of the epidemic, which facilitated international cooperation on scientific research on the virus and made it possible to find a cure as early as possible.
Its transparency and openness were credited by the WHO experts. The inspection report jointly issued by the Chinese and foreign expert groups has provided important guidance for the international community to prevent and control the epidemic.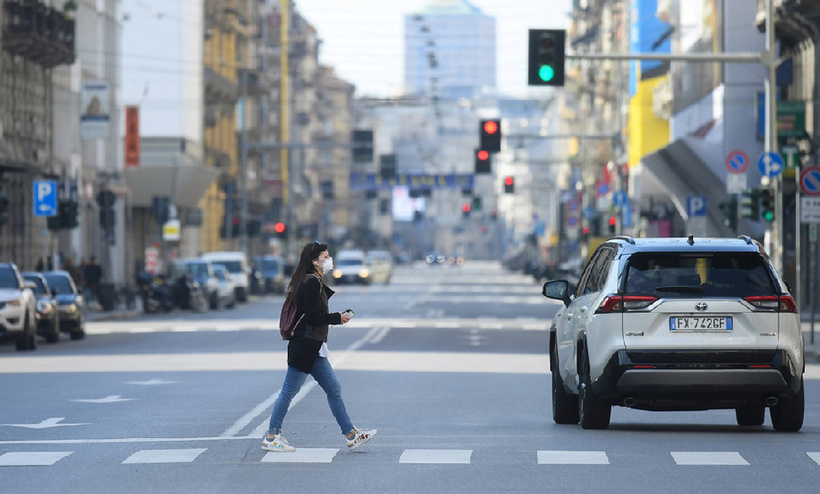 A woman wearing a protective face mask crosses an empty street, on the sixth day of an unprecedented lockdown across of all Italy imposed to slow the outbreak of coronavirus in Milan, Italy, March 15, 2020. (Photo source: Agencies)
China sends team of medical experts, gear to help Italy fight coronavirus - South China Morning Post
China has sent a team of medical experts to help Italy battle the coronavirus after the European country reported its highest death toll in a single day.
Beijing also has provided similar assistance to Iran and Iraq to contain the spread of the respiratory virus.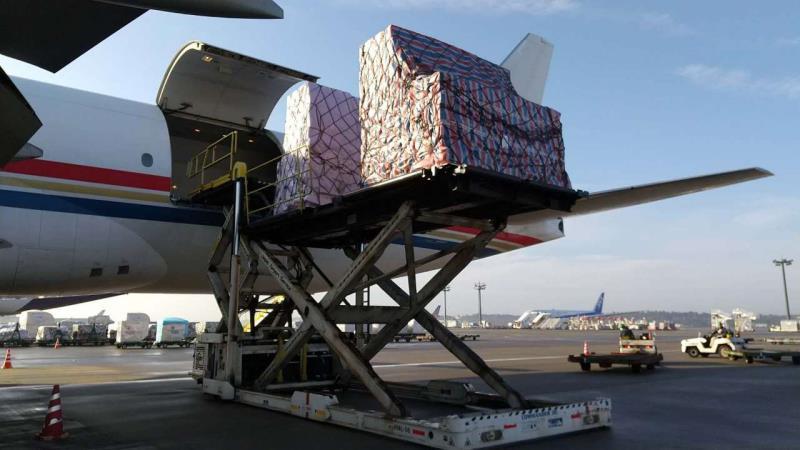 A jet's cargo of donated masks is off-loaded at Narita International Airport in Tokyo, on March 3, 2020. (Photo provided to China Daily)
Chinese businessman to donate 500,000 test kits and 1 million masks to the US - Politico
Chinese businessman Jack Ma, founder of the Alibaba Group, offered to donate 500,000 coronavirus testing kits and 1 million masks to the United States.
Jack Ma's charitable foundation and his China-based company's foundation, the Alibaba Foundation, also have sourced and donated supplies to other countries being hit by the virus, including Japan, Korea, Italy, Iran and Spain.
"The crisis presents a huge challenge to all humankind in a globalized world. The pandemic we face today can no longer be resolved by any individual country," Ma said in the statement.
"Rather, we need to combat the virus by working hand-in-hand. At this moment, we can't beat this virus unless we eliminate boundaries to resources and share our know-how and hard-earned lessons."