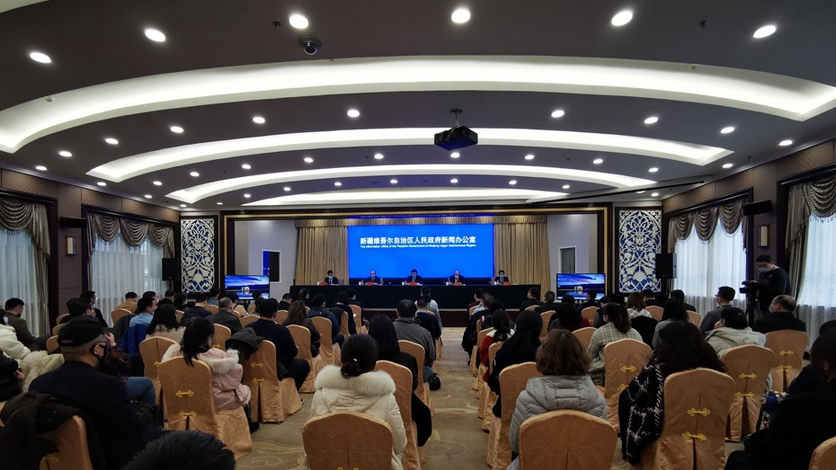 A view of the press conference on Xinjiang, March 16, 2020. (Photo source: CGTN)
China's Xinjiang Uygur Autonomous Region on Monday strongly refuted a report on Xinjiang labor which was issued by an Australian think tank recently, saying it is totally a smear about Xinjiang which is full of suppositions and fabricated stories with obvious ideological prejudice.
Elijan Anayit, a spokesperson for the Information Office of Xinjiang Uygur Autonomous Region's government, commented at a press conference in Urumqi, the autonomous region's capital.
Anayit's remarks came after the Australian Strategic Policy Institute (ASPI) issued a report titled Uygurs for Sale, claiming that there were at least 80,000 Ugyurs transferred to factories cross the country between 2017 and 2019 by Xinjiang to further control them.
Noting that the APSI has long been receiving funds from the U.S. government and arm dealers, Anayit said it deliberately smears, vilifies and demonizes China for the investors' benefits.
The conference stressed that thousands of Uygurs working in inland provinces were self-motivated - referred by friends and relatives who already worked outside Xinjiang. More importantly, these workers were not associated with the vocational training centers in any form.
These migrant workers work in industries including automobile, electronics and garment manufacturing with an average annual income of 45,000 yuan.
One of the companies accused in the ASPI report is Dong Guang Yidong Electronic Technology Co. Ltd. Since its release, the company has denied the "forced labor" accusation and called the report "absurd."
"We would like to point it out solemnly here, the People's Republic of China is a common home for people of all ethnic groups, Uygurs included, and they are masters of their own," the company said in a statement. "Chinese citizens are entitled to work at any place around the country voluntarily and their rights are protected by law."
Due to the limited job opportunities in the severely-underdeveloped Southern Xinjiang area, local authorities took active measures to help the surplus labor from poor households in the area to get employed based on their employment intentions, such as creating more job opportunities at local markets, seeking employment in other prefectures and cities in Xinjiang to increase their incomes and shake off the poverty, said Anayit.
(CGTN's Sun Ye also contributed to this story.)