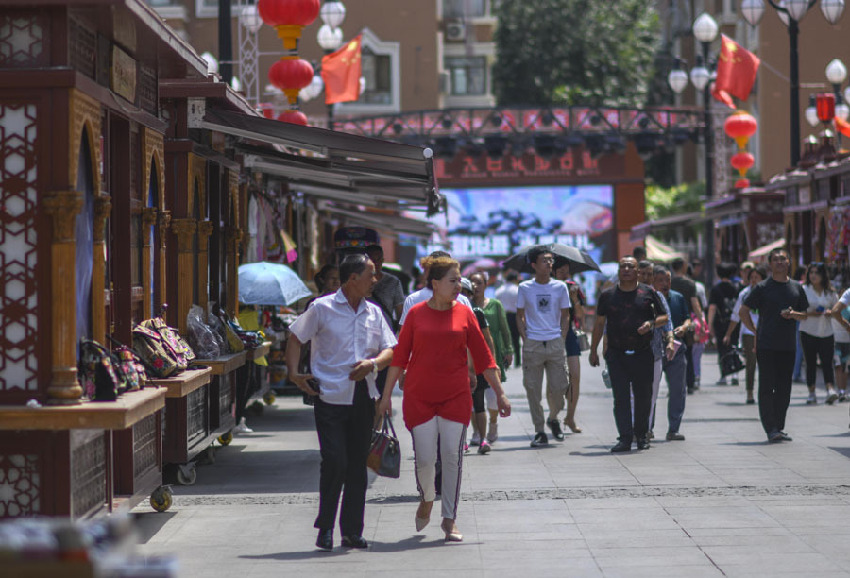 Tourists go sightseeing at the International Grand Bazaar in Urumqi, northwest China's Xinjiang Uygur Autonomous Region, July 13, 2019. The bazaar in Urumqi saw nearly 80,000 tourist trips per day during the recent tourist rush season. (Xinhua photo/Pan Ying)
JAKARTA, July 23 (Xinhua) -- Indonesian capital of Jakarta hosted on Tuesday the High Level Conference on China-ASEAN Media Cooperation, aimed at strengthening further media cooperation to build closer community relations between the two sides.
The event, co-hosted by China National Radio and Television Administration and the China mission to ASEAN, was attended by senior officials, experts and media representatives from China and 10 ASEAN members.
Fan Weiping, Deputy Director of China's National Radio and Television Administration, said in his opening remarks that the high-level conference is an important agenda under the framework of the China-ASEAN media exchange year, aimed at strengthening the policy dialogue between the governmental departments of China and ASEAN, consolidating consensus of development and cooperation, and planning future priorities.
Kung Phoak, Deputy Secretary-General of ASEAN for the ASEAN Socio-Cultural Community, said that the conference reflects the deepening China-ASEAN partnership in information and media sector.
"Information and media offer huge opportunities in enabling our communities knowing each other better," he said.
Commenting on the relevant conference event, he lauded China's initiative to hold the China-ASEAN Year of Media Exchanges.
"Next year we will declare 2020 as Year of ASEAN identity. I expect China's support to make use of media information to expand public's awareness on development of ASEAN identity," he added.
Participants in the conference themed "Digital Era: Strengthening Media Cooperation for Better Future" discussed role of media and how to strengthen cooperation of media in building closer relations between China and ASEAN communities.
Besides that, participants also discussed best practices in promoting integration of media from the two sides, development of responsible and sustainable new media and ways to expand cooperation among media in China and ASEAN amid the progressing digital era.
Among the conference's agendas are the presentation of the Draft "Joint Statement on Deepening China-ASEAN Media Exchange and Cooperation", and the presentation of "China-ASEAN Five-Year Plan for Audiovisual Communication Cooperation (2020-2024)".