BEIJING, July 21 (Xinhua) -- With all the twists, turns and countermarches along the 12,500-km-long journey, the soul-stirring stories of the legendary Long March starting in 1934 have taken on a new lease of life 85 years on.
The epochal, varicolored expedition undertaken by the Red Army captured the imaginations of not only the Chinese but also the foreigners who marveled at the victories at countless battles within a hair's breadth of defeat and the triumph of the human spirit.
Their experience was recorded on the pages of the 1936 book "The Restraining Hand" by R.A. Bosshardt, a British missionary who spent 560 days with the Red Army, and Edgar Snow's "Red Star Over China" published one year later after days of conversations with Chairman Mao in his cave-house in the loess hills of northern Shaanxi.
Last month, hundreds of journalists from dozens of media outlets across China hit the road to follow in the footsteps of the Red Army, inspiring the whole nation to join the Long March of the new era with their pictures and stories.
The major ongoing event has enjoyed extensive press coverage, jogging people's memories of the great human epic and spurring them to strive for the realization of the "two centenary goals" and the Chinese Dream of national rejuvenation.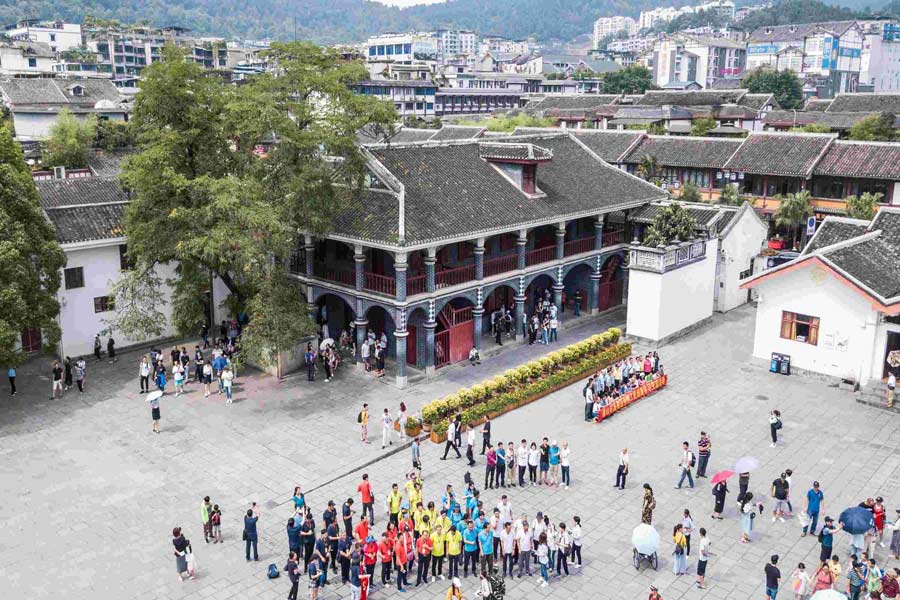 Aerial photo taken on July 4, 2019 shows people visiting the site of the Zunyi Conference in Zunyi City, southwest China's Guizhou Province. (Xinhua photo/Tao Liang)