Interesting events took place during the foreign media group's trip to Hunan in late May. Luvsandorj Batbayar, editor-in-chief of Mongolia's Montsame News Agency, and Zorkina Kristina, editor of Russian news agency TASS, met their compatriots in the Tanhe ancient town in Ningxiang city.
After the group watched a live show called The Romantic Show of Tanhe, two foreign performers came to them to find if they could meet any compatriots. Kristina learned one of the performers is her compatriot who had been in Ningxiang for three years and liked the city. The air quality and environment are good and she gets a good salary, Kristina said. She also met her boyfriend there.
The show is a story about a bronze sacrificial vessel made in the late Shang Dynasty (C.16th century-11th century BC), which was unearthed in Ningxiang. It uses technologies related to sound and light, more than 10,000 sets of stage machinery and 300 actors.
Natalia Amaglobeli, editor-in-chief of Agenda.ge of Georgia, said: "The show is astonishing and the choreographic effect and performers' dances were excellent, especially the diverse artistic conceptions created by ingenious combination of high technology."
The show has attracted members of the media group and among them is Mohammad Zubair Ahmed from Pakistan. "Actually, our country also has similar cultural resources for tourism," he said.
The media group saw giant advertising boards on the road to the theater. The boards were about the show and the director's name was highlighted.
Amaglobeli said the director is good at branding. She learned that the director of the show is the president of Songcheng Group, a renowned cultural company based in Hangzhou, Zhejiang province. She said just like the tea garden they visited earlier, the show develops with the help of local government and is led by excellent businesspeople.
The media group said palaces, temples and the old street full of diverse commodities in the Tanhe ancient town showcased the charm of the Chinese civilization. They were impressed by the bronze culture museum and the show.
Han Bingyu contributed to the story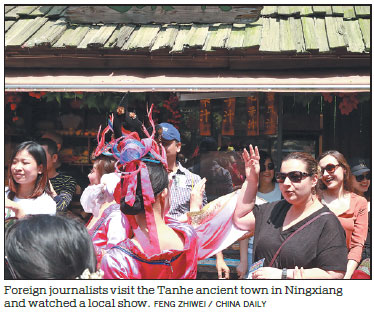 (China Daily 06/27/2019 page7)