‍The signing ceremony of the strategic agreement between China Media Group (CMG) and Russia's Roscongress Foundation was held during the ongoing St. Petersburg International Economic Forum (SPIEF) on Friday.
Wang Xiaohui, executive vice minister of the Publicity Department of the Central Committee of the Communist Party of China (CPC), Shen Haixiong, president of CMG, Alexey Volin, deputy minister of Digital Development of Communications and Mass Media of the Russian Federation, as well as officials from the Chinese Embassy in Russia and media representatives from both China and Russia attended the ceremony.
According to the agreement and under the framework of SPIEF and Eastern Economic Forum (EEF), the two sides will adhere to the principles of equality, mutual benefit and openness to deepen cooperation in the media field between China and Russia.
CMG President Shen Haixiong said that in the context of deepening the China-Russia comprehensive strategic partnership of coordination, the media should carry out more cooperation of strategic significance, and have their voices heard in the field of international public opinion.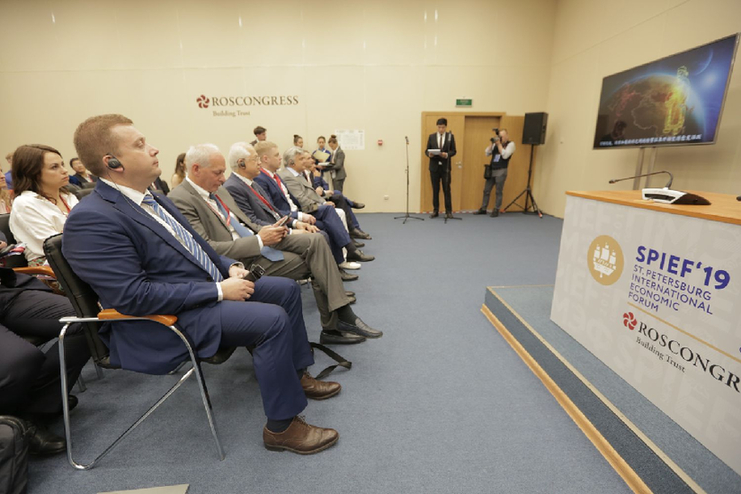 ‍The signing ceremony of the strategic agreement between CMG and Russia Roscongress Foundation was held at the third media hall of the SPIEF business center in St. Petersburg on June 7, 2019. (Photo source: CCTV)
Alexander Stuglev, CEO of the Roscongress Foundation, expressed gratitude to CMG as a media partner for supporting SPIEF over the years and expressed his willingness to deepen cooperation in the future.
On the same day, CMG hosted a press conference on a soon-to-be-released collaborative micro-video series project.
The series used 3D animation to portray friendly exchanges between cities from the two countries, and highlight the 70th anniversary of the founding of the People's Republic of China as well as the 70th anniversary of the establishment of diplomatic relations between China and Russia.
The videos are expected to be released in October when China marks its National Day.