When Chinese President Xi Jinping visited Europe this March, he sent out a clear signal to the world that China is standing on the right side of history, and will continue to promote China-EU relations and safeguard multilateralism.
This year marks the 44th anniversary of China-EU relations as well as the 16th anniversary of the establishment of the China-EU strategic partnership.
A roundtable discussion on China-EU relations was held at Tsinghua University Saturday. Professors, scholars, media executives, and diplomatic envoys covered many topics in the conference, from politics and economics to media cooperation and people-to-people exchanges, including the EU's image in Chinese media, Chinese perceptions of the EU, and future media cooperation between the two sides. The conference was believed to bring important ideas together and help deepen communications between the two sides.
CGTN Controller Jiang Heping delivered a speech at the conference, saying that China and Europe are strategic partners and friends. Both sides require healthy competition but based on communication, which is the mission of CGTN.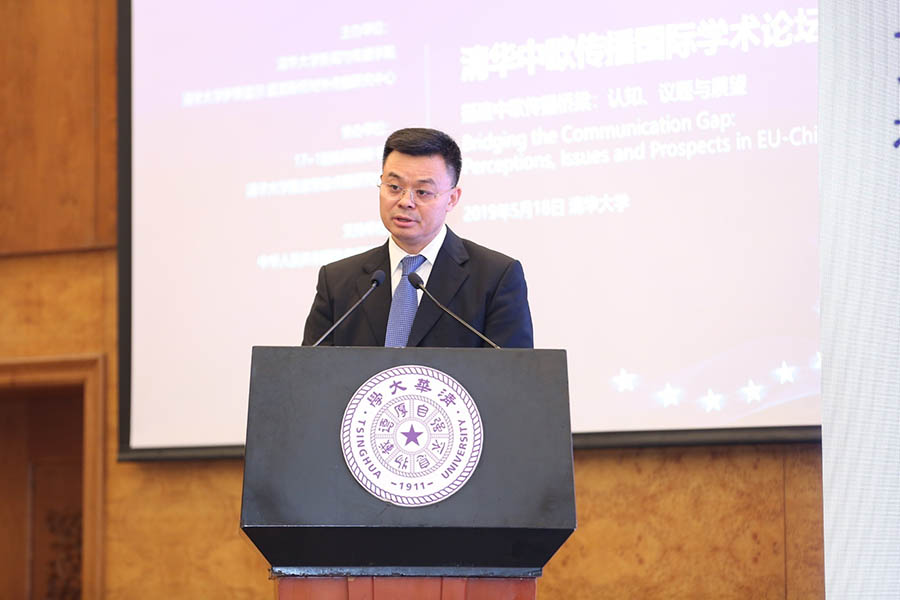 CGTN Controller Jiang Heping delivers a speech at the conference. (Photo source: CGTN)
Jiang also made several proposals on how CGTN may strengthen collaboration with media in Europe. He said: "Firstly, we hope to enhance exchanges between Chinese media and EU media.
"We look forward to enhancing understanding with media and communication agencies of Europe and promoting communication between the two sides through mutual visits and training."
He stated co-producing programs is vital for the mutual understanding between China and Europe.
"We want to co-produce dialogue programs to discuss hot topics. We look forward to strengthening cooperation with European media, jointly filming documentaries reflecting the development of China and Europe in various fields, and promoting the sharing of news resources with the European mainstream media through our Eurasian news sharing and exchange platform."
To strengthen bilateral communication, he mentioned the role of CGTN, saying: "CGTN will play a role as a bridge link to strengthen bilateral think tanks and economic and trade exchanges. CGTN attaches great importance to cooperation with think tanks and other institutions. Chinese and European media can closely follow the process of exchanges in various fields between China and Europe, give full play to the advantages of media, organize parallel forums on relevant agendas, and expand the breadth and depth of exchanges between China and Europe."
In the past 16 years, China and the EU have established procedures for exchanges in various fields. However, political, economic and cultural differences between the two sides sometimes hinder the development of the bilateral relationship. Therefore, enhancing communication is crucial.
"China has done many things that are conducive to the development of China-EU relations, but Europe does not have the corresponding recognition. We need to strengthen the understanding between China and Europe," Hu Yu, the administrative dean of the Institute for Culture Creativity of Tsinghua University, said.
The Ambassador of the European Union to China Nicolas Chapuis said: "Political trust, economic trust, intellectual trust – we have to work on that, that means more partnership, more intellectual dialogue, better communication between the two sides."
Dominik Mierzejewski, associate professor of the International and Political Studies Center for Asian Affairs, said: "We have a project with the Chinese Academy of Social Sciences, Nankai University, and Sichuan University. As for us, more Chinese will understand Poland, and we are organizing a summer school for more than 200 students per year, so they are enjoying the good atmosphere."
Experts say China and Europe share interests like combating climate change and strengthening the multilateral international order. By March 2019, the continent-crossing rail has connected sixty Chinese cities with fifty cities of fifteen European countries, with the freight train making over 14,000 trips back and forth.