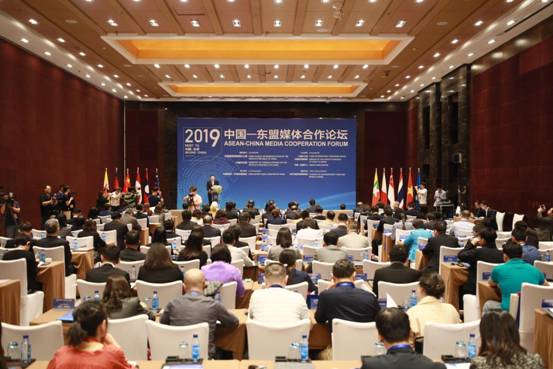 Opening Ceremony of 2019 ASEAN-China Media Cooperation Forum (Photo source:China Report/Liu Rong, Zhao Xi)
The 2019 ASEAN-China Media Cooperation Forum took place in Beijing on Tuesday.
With guidance from the State Council Information Office (SCIO) and the Ministry of Foreign Affairs (MFA) of the People's Republic of China, the forum was sponsored by the China International Publishing Group (CIPG), the Mission of the People's Republic of China to ASEAN and the ASEAN-China Center (ACC), organized by China Report ASEAN of China Report Press, and supported by the Academy of Contemporary China and World Studies (ACCWS).
Attending the forum were guests from guiding and sponsoring organizations including Guo Weimin, Vice Minister of SCIO, Du Zhanyuan, President of CIPG, Huang Xilian, Ambassador of China to ASEAN, Chen Dehai, Secretary-General of ACC, and key figures from ASEAN including Dr. AKP Mochtan, Deputy Secretary-General of ASEAN, Kem Gunawadh, Secretary of State at the Ministry of Information of Cambodia, Djauhari Oratmangun, Indonesian Ambassador to China, U Thit Linn Ohn, Myanmar Ambassador to China, and Jose Santiago Sta. Romana, Philippine Ambassador to China.
Also attending the forum were representatives from more than 40 media outlets and the academia of China and all 10 ASEAN countries.