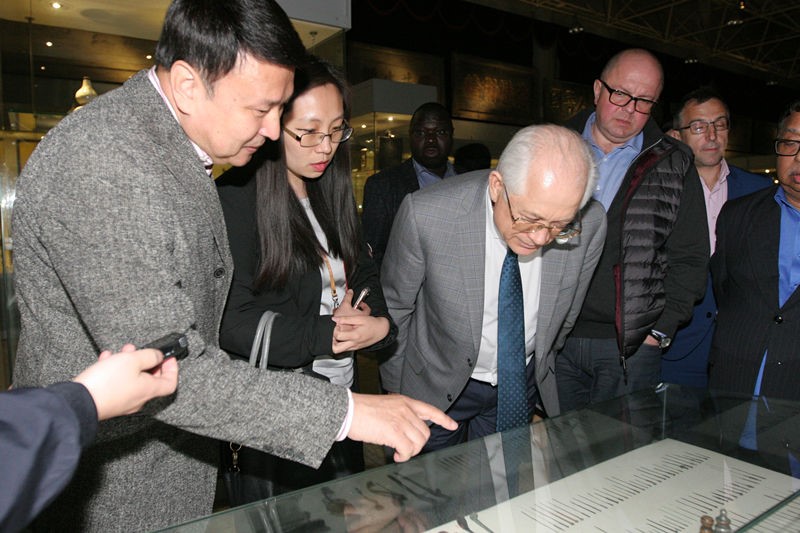 Representatives of the Belt and Road News Network council watch acupuncture instruments from Ming and Qing dynasties at Beijing Yu Sheng Tang Traditional Chinese Medicine Museum, April 24, 2019. (Photo source: People's Daily Online/Ji Peijuan)
Delegates from foreign council members of the Belt and Road News Network (BRNN) visited a traditional Chinese medicine museum in Beijing on April 24, experiencing the charm of TCM in ancient and modern times.
Beijing Yu Sheng Tang TCM Museum has a history of over 400 years. As a medicine store in the past, it integrates TCM and Chinese herbology, and displays medical instruments and cases in all ages.
The museum collects a brown silk handkerchief for wrapping needles from Liao Dynasty (907-1125) aroused interest among foreign guests. The pattern on the handkerchief shows a man and his seven camels trekking in desert.
The handkerchief indicates that the booming trade along the ancient Silk Road played an important role in promoting the exchanges on medicine between China, central Asian and west Asian countries.
Other collections including herb rollers, ancient plaques, statues of Shennong holding ganoderma, wooden medicine boxes, fossilized animal bones with carved inscriptions, golden and silver needles, and feathered first aid kits are also displayed in the museum.
In recent years, the number of foreign visitors who are keen on TCM has kept rising, said Bai Jianjiang, curator of the museum, adding that it is conducive to revitailizing and promoting TCM as well as propecting health of mankind.