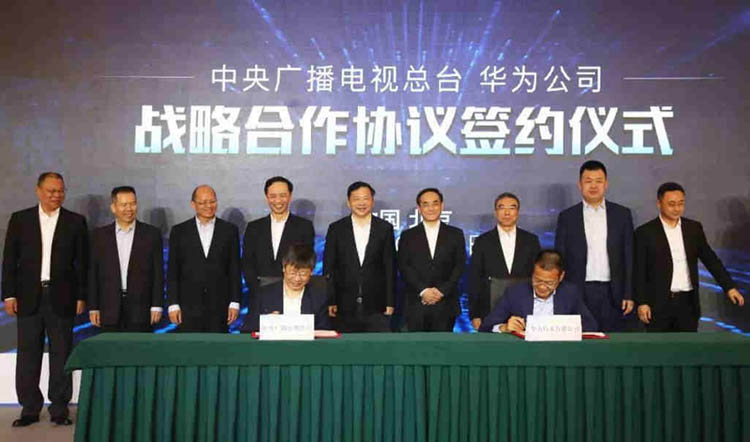 Ahead of the Belt and Road Forum for International Cooperation, a side forum on communication technologies of 5G and 4K has been held in Beijing.
The forum was hosted by China Media Group and the Belt and Road Media Community with the aim of promoting exchanges between media outlets.
More than 150 representatives from 40 media outlets around the world took part in the forum. Delegates exchanged views on how technologies could push for more innovative communication and expedite integration.
President of China Media Group Shen Haixiong said CMG has been taking the advantage of historic opportunities being offered by 5G technologies, focusing on core technologies, fastening integration, and creating a new strategic landscape of 5G plus 4K plus AI.
He also said CMG is looking forward to working with mainstream media outlets of participating countries of the Belt and Road Initiative.
Tech companies including Sony and Huawei are showcasing their latest productions at the forum, such as the applications of 5G, 8K, and artificial intelligence. Meanwhile, CMG has signed a strategic cooperation agreement with Huawei, hoping to strengthen cooperation with China's telecommunications giant in new technologies.
In addition, a three-episode documentary called Shared Future was released on Monday. The series, made by CMG, illustrates through human stories the massive development opportunities brought about by the Belt and Road Initiative, showing ordinary people could derive a sense of achievement and happiness from the initiative. The documentary was filmed in more than 30 countries and regions across Asia, Europe, and Africa.
The forum has also released a proposal on 5G plus 4K innovation. The proposal calls for all members of the Belt and Road Media Community to share opportunities, take advantage of new technologies and create new space for win-win benefits.